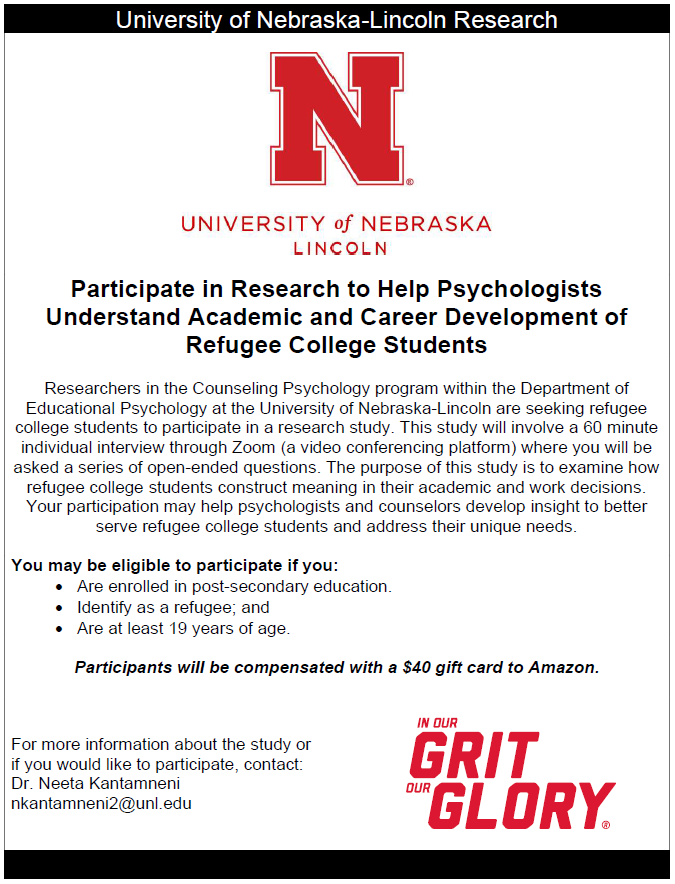 Through this IRB ethics-approved qualitative project, a team of Counseling Psychology researchers from the UNL Educational Psychology department are inviting refugee college students to share their stories of their career/vocational journey. Your participation can help psychologists better understand refugee students' unique needs and experiences and identify more effective ways in which counselors and higher education institutions can support them in their academics, vocation, and college life. Each participant will receive a $40 gift card as a token of appreciation of their time and effort in completing the interview.


To be eligible to participate, research participants must be 19 years or older, currently enrolled in higher education (including undergraduate and graduate students), and identify as a refugee. Each participant will be requested to do one 1-hour individual interview via Zoom. We will ensure that the participants' confidentiality will be protected.


All interested participants should email Dr. Neeta Kantamneni, who is the Principal Investigator, at nkantamneni2@unl.edu.