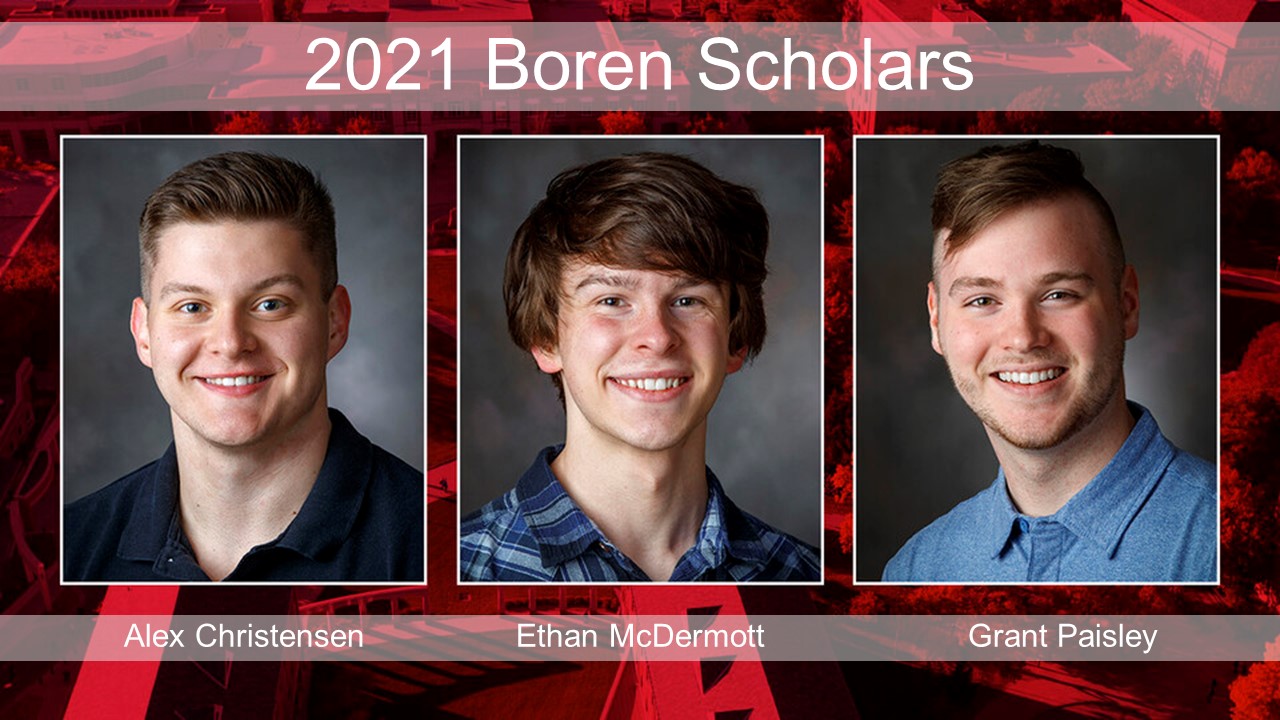 Advisors play critical roles in identifying and recruiting students for many opportunities, especially the nationally competitive scholarships. As you work with your students, you may be the person who first introduces them to the various fellowship and scholarship opportunities available for research, cross-cultural engagement, or public service.

We are seeking undergraduate applicants to represent UNL in these upcoming scholarship competitions:

Boren Awards (all class years)
• The Boren Scholarship provides up to $25,000 to U.S. students of any major with interest in study abroad in Africa, Asia, Central & Eastern Europe, Latin America, and the Middle East to master a foreign language. Students will plan their own experience to be immersed in a language that is critical to national security and economic prosperity in the United States. After graduation, Boren Scholars serve at least one year in a government agency role.
• NIF Advising and campus endorsement (nomination) is strongly encouraged. Internal Deadline: December 8, 2021.

Cargill Global Scholars (freshmen and sophomores)
• This two-year program offers undergraduate students from Brazil, China, Indonesia, India, Russia or the United States an opportunity for international leadership and development. Opportunities include networking events, seminars and one-on-one mentoring from volunteers and past scholars. The award is given to students of high academic achievement who will become leaders in industries related to Cargill's world of food, agriculture and risk management.
• NIF Advising is optional. External Deadline: TBD (Early March 2022).

NOAA Hollings Scholarship (sophomores)
• The National Oceanic & Atmospheric Administration Hollings Scholarship provides up to $9,500 per year to U.S. students in majors related to oceanic and atmospheric science who seek to become researchers, educators, or public servants in natural resource and science-focused government agencies. Scholars work as interns for NOAA departments or research labs during summer.
• NIF Advising is optional. External Deadline: January 31, 2022.

NIH Undergraduate Scholarship (freshmen, sophomores, and juniors)
• The National Institutes of Health Undergraduate Scholarship provides up to $20,000 per year to underrepresented U.S. students who are preparing for careers in biomedical, behavioral, and social science health-related research. Scholars perform research at NIH labs during summer and commit to employment for at least 1 year at the NIH after graduation. Students must demonstrate exceptional financial need.
• NIF Advising is optional. External Deadline: March 17, 2022.

Udall Scholarship (sophomores and juniors)
• With three different categories, the Udall Scholarship provides $7,000 to U.S. undergraduate students passionate about the environment and/or justice in Native American communities. The popular Environment category is for all undergraduate students interested in environmental policy issues and conservation. Native American and Alaska Native students may also receive support for study related to tribal policy issues in Indian country or Native healthcare careers.
• NIF Advising and campus endorsement (nomination) is required. Internal Deadline: December 8, 2021.

Your referrals are appreciated. To refer an undergraduate student, please contact Courtney Santos, Director of National & International Fellowships, courtney.santos@unl.edu. Your student will be provided access to our Canvas advising course resources and personalized application materials feedback. Your student can also book a National Fellowships advising appointment through MyPLAN.

More details at: http://fellowships.unl.edu/