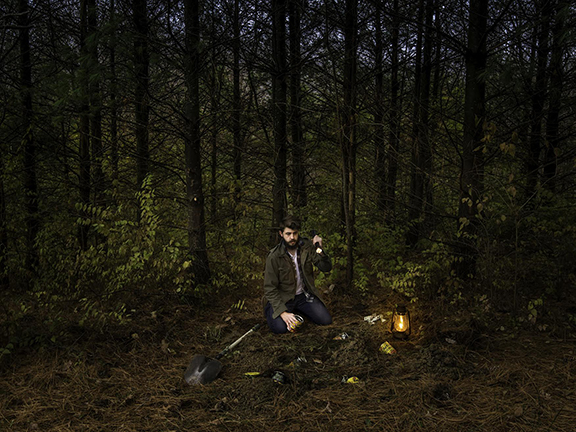 Two graduate students in the Department of Art and Art History have won Society for Photographic Education (SPE) Student Awards for Innovations in Imaging. John-David Richardson and Rana Young were only two of 10 winners nationally, from among 107 applications this year.

The awards include a $550 travel stipend to attend the SPE National Conference in Las Vegas in March, a conference fee waiver and a complimentary year of SPE membership. In addition, to highlight the work of the award recipients, there will be a special section at the Curator Portfolio Walkthrough during the national conference, where the winners will be provided their own table to showcase their portfolios and interact with conference attendees and guest curators.

"Being recognized at the SPE National Conference is such an honor, and when I heard the news, I naturally went a little crazy," said Richardson, a first-year Master of Fine Arts candidate in photography, originally from Russellville, Alabama. "The fun certainly didn't stop there. Rana Young, my fellow MFA grad, got a hold of me just as I'm calming down to tell me she would also be one of the recipients. What a day!"

Young, a second-year Master of Fine Arts candidate from St. Louis, Missouri, is excited to attend this year's conference.

"Attending this year's conference is really important to me since my current work, which parallels the trajectory and circumstances in relationships and speaks to gender role expectations within them, fits well within the context of this year's theme, 'Constructed Realities,'" she said. "I've always been drawn to visually communicating an internal dialogue—or what one may consider their 'internal reality.' To be recognized for my ideas and efforts, especially at the national level through SPE, is an honor."

Dana Fritz, professor of art, is proud the photography program has two SPE student award winners.

"I am very proud that our small and recently re-started graduate program in photography has such a strong record of success in this area," she said. "Since Fall 2012, four of our seven graduate students have received this award. In addition to Rana and John-David, Chadric Devin (MFA 2015) won the award in his second year at UNL and current first-year grad Zora Murff won the award last year as an undergraduate student at the University of Iowa. Not only an honor, the financial award enables the students to attend the national conference and participate in a highly visible way."

UNL regularly participates in regional and national SPE conferences. UNL and Metropolitan Community College in Omaha co-hosted the Midwest SPE conference in Lincoln in 2013, and Fritz received the 2013 Imagemaker Award at the national conference in Chicago. Devin was also selected to present a lecture on his work at the 2015 national conference in New Orleans, and Fritz and Assistant Professor of Art Walker Pickering are regular portfolio reviewers at both regional and national conferences.

Both Young and Richardson are looking forward to having their work shown at the portfolio walkthrough.

"As a student, you're always pushing your work in different directions and trying new things," Richardson said. "My work could change so much in the short amount of time before the conference, and it'll be great to have feedback on what I'm working on at that time."

Young said the walkthrough will help her gain new insights into her work.

"I am particularly looking forward to the one-on-one dialogue with artists I normally wouldn't have the opportunity to sit down with," she said. "Discussing relevant concepts and processes with established and fellow emerging artists is invaluable—these new perspectives will contribute to the further development of my conceptual underpinning and art practice."

Richardson was born in northwest Alabama and holds a B.F.A. in applied photography from Northern Kentucky University. Working in the style of an open narrative, his photographs illustrate moments of self-realization, tension and loss.

Young is the recipient of an Othmer Fellowship at UNL and has been curated into group exhibitions in galleries such as Newspace Center for Photography and Midwest Center for Photography. She has also be chosen for participation in public art projects, including Photolucida's Then.Now.Here and Photo Center Northwest's City Panorama. Her current work parallels the trajectory and circumstances in relationships and speaks to gender role expectations within them while exploring themes of intimacy, voyeurism and the home.

SPE is a nonprofit membership organization that provides and fosters an understanding of photography as a means of diverse creative expression, cultural insight and experimental practice. Through its interdisciplinary programs, services and publications, the society seeks to promote a broader understanding of the medium in all its forms through teaching and learning, scholarship and criticism.

For more information on the 2016 SPE Student Awards for Innovations in Imaging, visit http://go.unl.edu/bzbz.