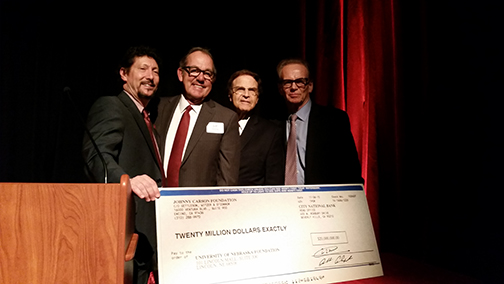 The Johnny Carson Foundation is the recipient of the Leonard Thiessen Award at the 2016 Governor's Arts Awards, presented by the Nebraska Arts Council. The award will be presented on Tuesday, March 22 at the Embassy Suites in LaVista, Nebraska.

The Leonard Thiessen Award recognizes an in individual who, or an organization that, has made extraordinary contributions to the arts for the state of Nebraska.

For 35 years, the Johnny Carson Foundation has displayed an outstanding commitment to the arts in Nebraska. In November, the Foundation announced a $20 million gift to the University of Nebraska Foundation to establish the Carson Center for Emerging Media Arts at UNL, an interdisciplinary research and creative center specializing in digital virtual production and design.

They have also provided more than $13 million to bolster the theatre, film and broadcasting programs at UNL, including the renovation of the Temple Building, which is home to the Johnny Carson School of Theatre and Film. They also created the Johnny Carson Opportunity Scholarship Fund and recently helped renovate the Lied Center's Johnny Carson Theater. The Foundation also made a gift to finish construction of the Lied Center for Performing Arts.

A key gift from the Johnny Carson Foundation was instrumental in the establishment of the Nebraska Cultural Endowment, and the foundation has continued this commitment with a total of $1,750,000 in contributions to date.

In Norfolk, Carson's hometown, the Foundation has donated more than $5 million to support a variety of organizations. It helped provide funds to construct Norfolk High School's Johnny Carson Theater and enabled theater upgrades like improved sound and lighting systems. The Foundation has also contributed to the Norfolk Arts Center, allowing them to provide art classes for the local community.

In addition to the Johnny Carson Foundation, two additional Governor's Arts Awards recipients have ties to the Hixson-Lied College.

Jamie Burmeister is receiving the Outstanding Artist Award, and Ruth A. Meints from the Omaha Conservatory of Music will receive the Excellence in Arts Education award.

Meints received her BM in violin performance from UNL and her MM with an emphasis in Suzuki pedagogy from Southern Illinois University Edwardsville. She has been the executive director of the Omaha Conservatory of Music since 2005, which has served nearly 2,000 students.

Burmeister received his MFA in sculpture from UNL in 2005. He is currently an art instructor at Metropolitan Community College in Omaha. His artworks have been exhibited in galleries, museums and public places throughout the world. His "vermin.me" project has resulted in more than 1,000 installations of small ceramic figures, called vermin, on six continents, 46 countries and in all 50 U.S. states.

Congratulations to all of the recipients of this year's Governor's Arts Awards. For more information or to see a full list of recipients, visit http://go.unl.edu/bo4r.