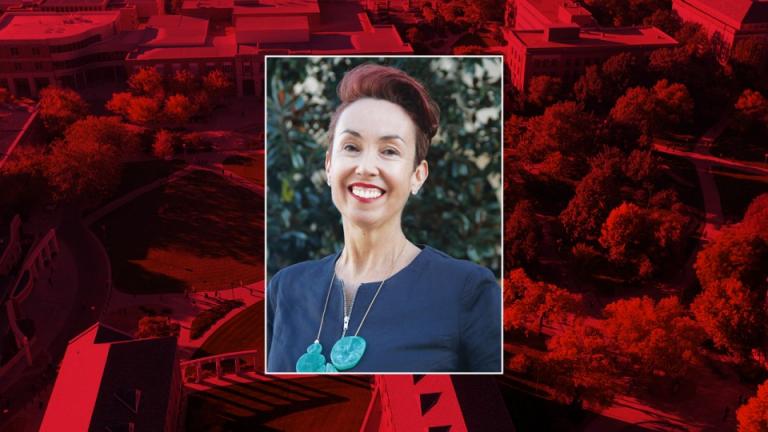 An open house has been scheduled for Wednesday, March 29 from 4-6 p.m. at the Lied Commons, 12th and R sts., for members of the university community and Lincoln community to meet new Johnny Carson Center for Emerging Media Arts Director Megan Elliott. The open house is free and open to the public.

The event is hosted by the Hixson-Lied College of Fine and Performing Arts and the Office of Research & Economic Development. Cocktails and hors d'oeuvres will be served.

Elliott began as director in January. She was formerly the manager of leadership and community connections at the University of Technology Sydney in Australia and former director and CEO of digital media think-tank X Media Lab.

The Johnny Carson Center for Emerging Media Arts was made possible by a $20 million gift to the University of Nebraska Foundation from the Johnny Carson Foundation in 2015. It will focus on virtual production, film, design, technology and commerce and will explore the boundaries of where cinematic storytelling intersects with artificial intelligence, science, the humanities, computer science, engineering, music, fine arts and other disciplines.

Courses and curriculum are being developed. The center will be at 1300 Q St., and the facility is scheduled to be completed by fall 2019.

"What I'm most excited about is co-creating a truly interdisciplinary program that celebrates the dynamic relationship between storytelling and emerging media arts and building an internationally unique, forward-looking center that honors the name and innovative spirit of Johnny Carson," Elliott said. "I look forward to meeting a variety of people at the Open House so we can begin having conversations about what the center will be."

Elliott has deep ties to emerging media industries across Asia, Europe and the world. She was co-founder and director of China Creative Industries Exchange in Beijing and Shanghai from 2007 to 2015.

From 2005 to 2015, she led X Media Lab, a digital media think-tank and creative workshop that she co-founded. X Media Lab assists clients with getting their creative ideas to market. Some of the company's partners include the Sydney Film Festival, Beijing Film Academy, American Film Institute, Digital Hollywood, 5D Global Studio and the British Council.

Elliott also was executive director of the Australian Writers' Guild from 2002 to 2006.

Originally from Australia, she received her bachelor's degree from the University of Canberra.

She began her career with the Splinters Theatre of Spectacle and was a performer, artist in residence and assistant project manager for The Performance Space in Australia.

"I've always been fascinated by play, interactivity, storytelling and media, and the possibilities have simply multiplied as new technologies emerge," Elliott said. "What an opportunity the Carson Center presents for all of us – new building, new people, new programs," she said.