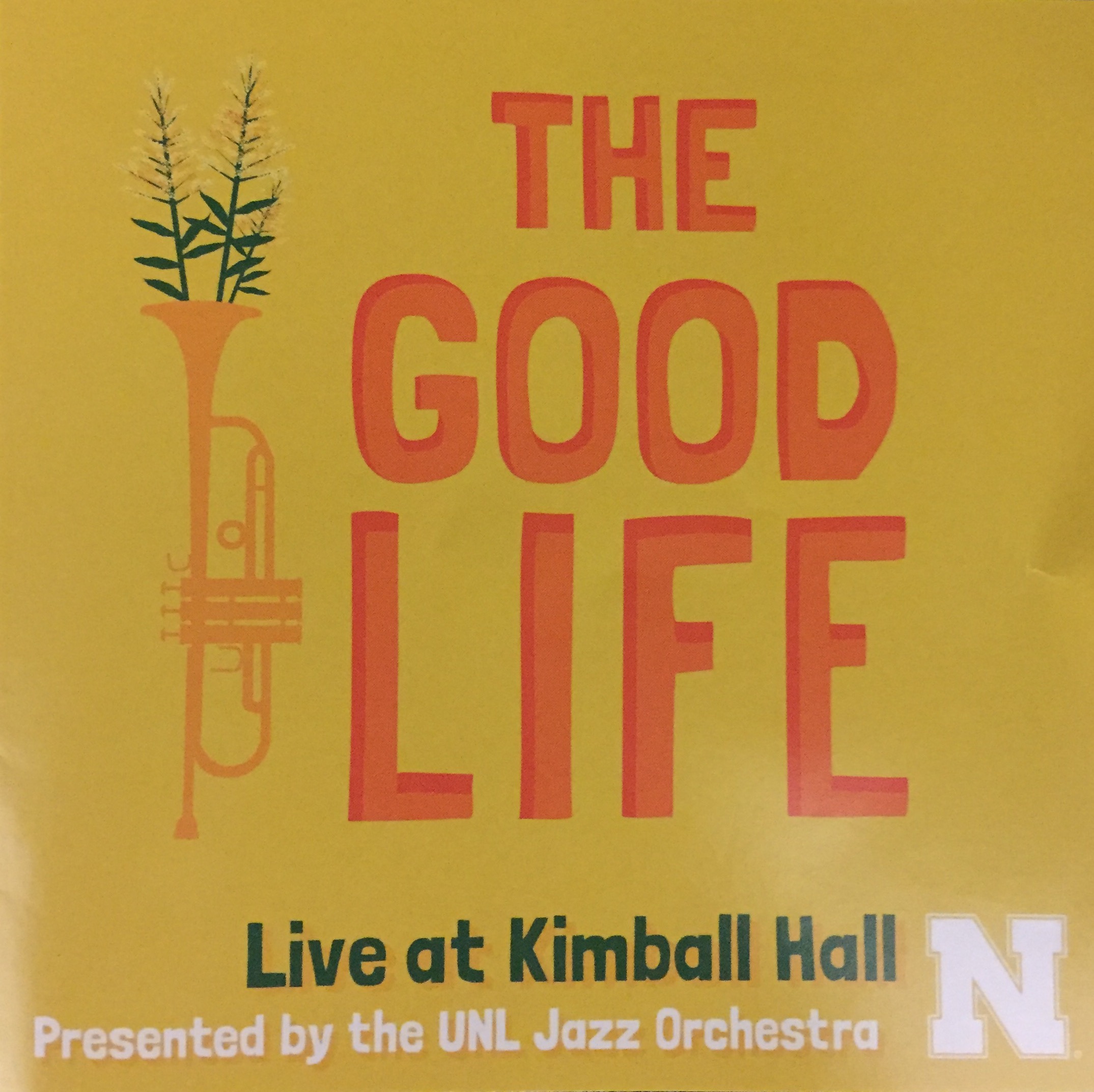 The Good Life. What does it mean to you? For some it's about spending time with the ones they love, for others it's a night walking on the beach and for others still it's about just enjoying life!

The University of Nebraska-Lincoln Jazz Orchestra recently released a CD, "The Good Life: Live at Kimball Hall," that captures many different moods and feelings with powerful live performances by the group.

"The Good Life has been Nebraska's motto for as long as I could remember," said Dr. Paul Haar, Director of Jazz Studies at the UNL Glenn Korff School of Music. "I have always wanted to use it for a recording. When George Stone was brought in as a guest composer, one of the pieces he sent was called 'The Good Life.' It was as if it was meant to happen."

The eight track CD features live recordings from March 10 and April 26 of 2016 with six of the tracks by current or former students of the Glenn Korff School of Music.

"I chose works that sound great," Haar said. "Be it pieces from professional writers or from our student composers. I love to do student works to showcase their talent and creativity. But all works have to move me as a listener. They have to have color and diversity."

The tracks include:

What Is This Thing Called Love

Polka Dots and Moon Beams, arranged by Paul Krueger

Luna B, by David von Kampen

The Good Life

Love Is Here to Stay, arranged by Andrew Janak

Falešná frajárka, arranged by Andrew Janak

Question and Answer, arranged by Derek Molacek

Omnipotent Q, by Derek Molacek

"We have done three prior CDs and each CD was in the studio setting," Haar said. "As our ability to record here at UNL improved, we starting doing the physical recording here. The band was playing at such a high level and our ability to record and edit in concert was so advanced, it was the smart thing to do. It allowed us to get a quality product, keep the energy only found in a live performance and create a CD."

From recording, editing and getting the mechanical rights for the songs, it took about eight months to produce the CD. The hardest part, according to Haar, was getting mechanicals in place.

The University of Nebraska Jazz Orchestra personnel on the CD include:

Saxophones: Patrick Brown, Sarah Cosano, Andrew Janak, Bobby Fuson, Nick May and Nick Brady

Trumpets: Russell Zimmer, Mitchell Dunham, Jesse McBee, Hunter Young and Kevin Roark

Trombones: Derek Molacek, Tate Rittenberger, Bill Mitchell and Amber Thoennes

Rhythm: Lee Heerspink, Sam Adams, Max Stehr, Zach Paris and Cory Davis

Haar says there are many reasons why it is important to produce CDs of your work.

"First it is a documentation of the quality of your work," Haar said. "It is a snapshot of the excellence of your program. From a teaching standpoint, it is invaluable for teaching students to perform at the level they already expect as listeners. Next it is a source of recruiting for our program -- especially a live CD. If you can show potential students…this is what we sound like live and have it be pleasing…it shows your level of excellence. Lastly, it is a tangible document for our University system as a whole of the work we do here."

--Brian Reetz, Glenn Korff School of Music

Note: To read a review of "The Good Life" from allaboutjazz.com, visit http://go.unl.edu/c6q7.