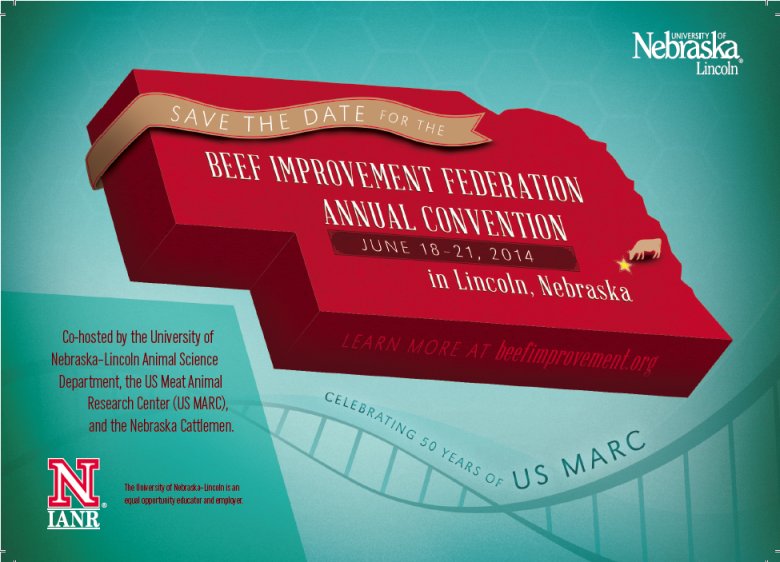 The Beef Improvement Federation (BIF) will hold its annual meeting and research symposium in Lincoln, NE on June 18-21 2014 at the Cornhusker Marriot in the heart of downtown Lincoln. This event is co-hosted by the University of Nebraska-Lincoln, Nebraska Cattlemen, and the US Meat Animal Research Center. It is no coincidence that we decided to host this event in NE in 2014. The US Meat Animal Research Center (USMARC) will celebrate its 50th anniversary in 2014 and we thought it appropriate to celebrate by hosting the annual BIF meeting, a meeting that USMARC scientists have contributed to since the beginning.

The Beef Improvement Federation (http://www.beefimprovement.org) was formed over 45 years ago as a means to standardize beef cattle performance programs and evaluation methodology and to create greater awareness, acceptance and usage of these concepts for the genetic improvement of beef cattle. The BIF represents over 40 state and national beef cattle associations. The organization's three leaf clover logo represents the partnership between industry, extension and research. The annual BIF research symposium and annual meeting attracts 450 to 900 attendees. This meeting is an opportunity for the research community and industry to meet and discuss issues surrounding the genetic improvement of beef cattle and for attendees to learn about technologies and management practices that can aid in the profitability of their operations.

Below are some of the topics and speakers that will be included in the general sessions on June 19th and 20th.

-- Economic considerations for profitable cowherds, Clay Mathis, King Ranch Institute
-- Heifer intake and feed efficiency as indicators of cow intake and efficiency, Dan Shike, University of Illinois
-- Decreasing costs through improved heifer development strategies, Rick Funston, UNL
-- Selection for Novel Traits: An international genomics perspective, Donagh Berry, Animal and Grassland Research and Innovation Centre, Teagas, Ireland
-- Genetics of Disease Susceptibility, Holly Neibergs, Washington State University
-- It is possible to genetically change the nutrient profile of beef, Raluca Mateescu, Oklahoma State University
-- Changes in dietary regime impact fatty acid profile of beef, Susan Duckett, Clemson University
-- Improving feed efficiency in the feedlot: Opportunities and challenges, Galen Erickson, UNL
-- Relationship between selection for feed efficiency and methane production, Harvey Freetly, U.S. Meat Animal Research Center

A post-conference tour on the 21st includes tours of USMARC, GeneSeek and Circle Five feedyard. Cost to attend the full conference is $250 if registered by April 15th. Day-only, student and media discount rates also are available. For a full and up-to-date conference schedule, lodging information or to register, visit http://go.unl.edu/bif2014.