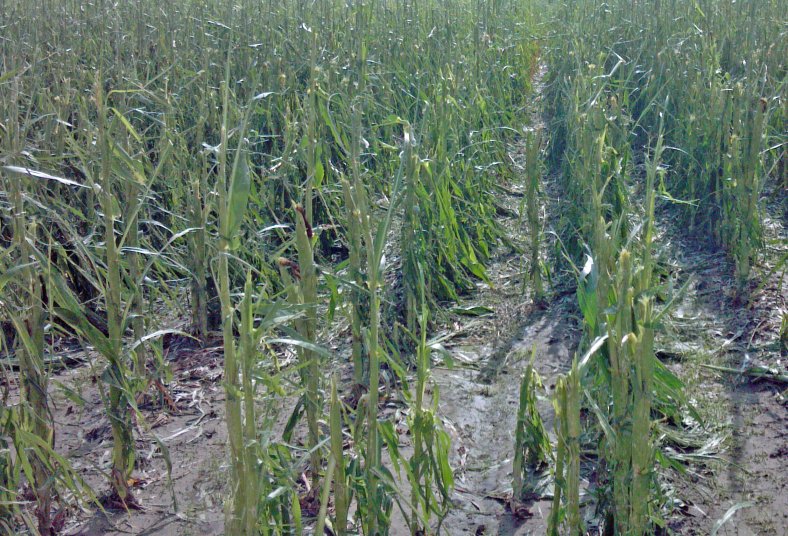 By Daren Redfearn, Forage and Crop Residue Specialist and Bruce Anderson, Extension Forage Specialist

Several areas of the state have a significant amount of weather-related damage, including wind and hail to both corn and soybean fields. Not only has grain production been reduced or eliminated, but much of the residue usually available as a winter forage resource has been lost.

This is an opportunity for those who may not yet have tried a cover crop to do so. The second opportunity that exists is the capability to produce a high-yielding, high-quality forage crop that will offset some, if not all, of the lost fall and winter grazing potential from corn residue.

The most important first step is to contact your crop insurance adjuster and clarify your plans prior to any changes in management. Secondly, explore opportunities to apply for any available assistance from NRCS or other agencies. The USDA Natural Resources Conservation Service is offering assistance for re-establishing vegetative cover. The Storm Damage Cover Crop Initiative Program has funding of $38.77 per acre up to a total of $10,000 to offset a portion for re-establishing vegetative cover lost to severe weather during the 2014 growing season. Those interested have until August 15, 2014 to apply.

There is only a very short amount of time to communicate with the crop insurance agents and adjusters, apply for any available assistance, and then make the final decisions on late-summer or early-fall cover crop establishment.

Previous herbicide use may eliminate some of the potential cover crop or forage choices. If there is a concern about herbicide carryover, several seed dealers have seed kits available as a tool to help determine if herbicide carryover could negatively affect cover crop establishment. Due to lateness of the season, however, if forage is needed for this fall and winter, it may be necessary to risk planting (when it is legal to use the forage grown) before knowing for sure if herbicide carryover is a problem.

Where crops were completely destroyed, the earliest potential fall grazing would come from a combination of oat and turnip. With early planting under irrigation, this has the potential to produce up to 2 to 3 tons of forage dry matter per acre. Radishes, annual ryegrass, and other spring cereals, like spring barley or spring triticale, also are good alternatives for fall forage.

The best choice for a corn residue replacement is a summer annual, such as forage sorghum, sudangrass, or millet. Since these all are warm weather crops, they need to be planted immediately in order to produce enough growth from the remaining heat units available this summer. Under irrigation, this has the potential to produce up to 2 tons of forage dry matter per acre. These would be grown until a killing frost and then grazed similar to corn residue.

For more information, refer to NebGuide G2185 "Utilizing Annual Forages with Limited Irrigation for Beef Cattle During and Following Drought" (http://extensionpublications.unl.edu/assets/pdf/g2185.pdf). Even though the focus is on annual forage management during and following drought under limited irrigation, many of the management practices and principles are relevant.