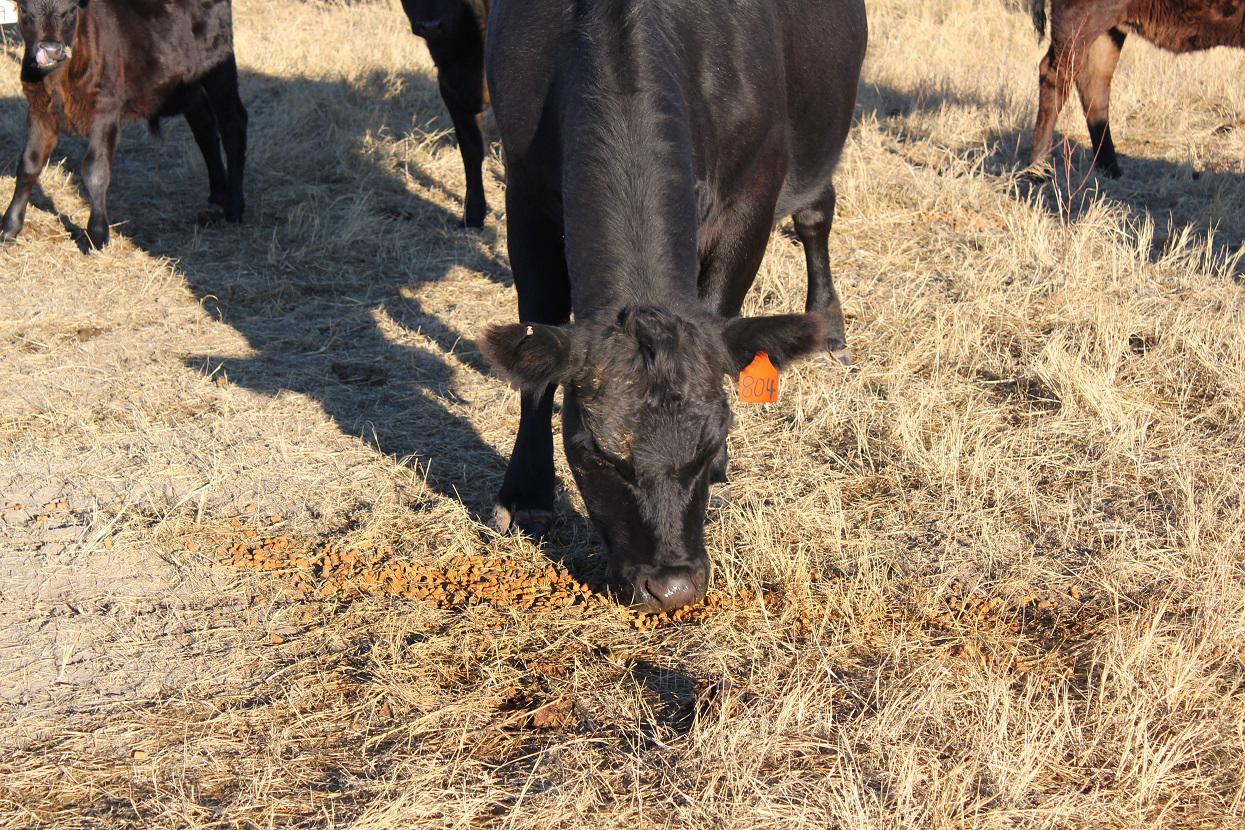 By Karla H. Jenkins, UNL Cow/Calf, Range Management Specialist

The development of the ethanol industry throughout Nebraska in the past ten years has resulted in an abundant supply of distillers grains available for cattle feed. Additionally, a number of recent years recorded high corn prices. This has made distillers grains a very favorable supplement for pasture cattle.

However, there are regions where distillers grains are in limited supply and transportation expenses make acquiring distillers grains less favorable. Today, corn prices are lower than they have been in a number of years making corn, especially corn with lower transportation costs, very favorably priced for cattle producers.

Regardless of the commodities available, there are a couple of things producers should think about before purchasing supplement.

The first thing producers need to consider is the requirement of the cattle on the pasture. Mature, gestating, dry cows have a different requirement for protein and energy than lactating cows, and growing calves will have different needs from cows.

The second thing producers need to know is the quality of the pasture being grazed. Cattle prices are much lower this year than the last couple and producers are not going to want to spend money unnecessarily on supplement. University of Nebraska beef extension personnel can help producers calculate balanced supplement needs.

While corn can be an acceptable supplement, there are several differences that must be considered when substituting corn for distillers grain as a pasture supplement for grazing cattle.

One of the big differences between corn and corn distillers grains is the starch content. Corn is about 73% starch while corn distillers grains has only trace amounts of starch since it is used for the ethanol production. This is important because starch can have negative impacts on fiber digestion because it shifts the microbial population in the rumen away from fiber digesters. Obviously, if cattle are grazing grass they need to be able to effectively digest grass.

The total digestible nutrients (TDN), which is a measure of energy, is only 83% for corn when used in a roughage based diet. Distillers grains, which is high in digestible fiber and contains some corn oil has actually been determined to be 108% TDN in forage based diets. This may seem surprising, but the protein and oil in distillers grains is concentrated and both have more energy than starch. In forage based diets dry distillers has equal feeding value of the wet product (on a dry matter basis), but dry distillers may be easier to store.

If a high starch supplement, like corn, is fed with very low quality forage, supplemental protein is likely to be needed as well. While there are several protein commodities available, alfalfa hay can serve as a protein source in this situation very well.

Another difference between corn and corn distillers grains is the crude protein (CP) content. Corn is roughly 10% CP while distillers grains has 30% CP. Therefore, distillers grains is commonly used as a protein source and at times as an additional energy source. Corn is not a good protein source, particularly in low quality forage diets.

With cheaper corn prices, corn may be used as a pastures supplement, but may need to be fed in combination with a protein source. Producers need to evaluate the price of acquiring, storing, and delivering supplements as well as the expected cattle performance to determine if supplementation is needed and what commodity choices make the most sense.


To listen to BeefWatch podcasts go to: https://itunes.apple.com/us/podcast/unl-beefwatch/id964198047 or paste http://feeds.feedburner.com/unlbeefwatch into your podcast app.