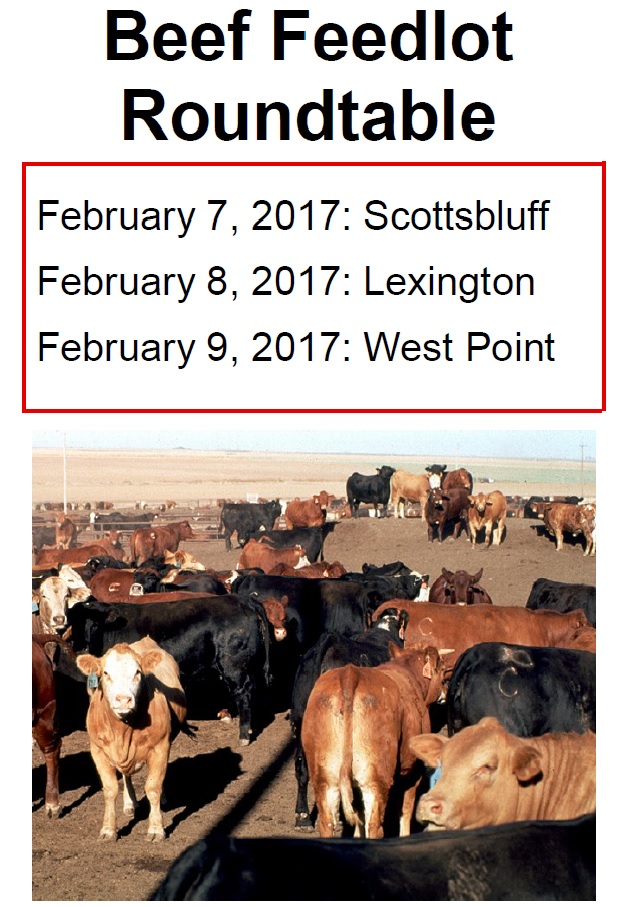 Beef feedlot managers, owners, employees and supporting personnel will learn the latest in feedlot nutrition, health, and marketing at the 2017 Beef Feedlot Roundtable Feb. 7 in Scottsbluff.

The University of Nebraska-Lincoln Extension Roundtables will be offered Feb. 7 at the Panhandle Research and Extension Center in Scottsbluff. Other locations in Nebraska will include Feb. 8 at the Dawson County Extension office by the fairgrounds in Lexington, and Feb. 9 at the Nielsen Community Center in West Point.

Registration begins at 12:30 p.m. with introduction and welcome at 1 p.m. University and industry representatives will speak nutrition and management, marketing options, environmental topics, industry updates and other timely topics for feedlot operators. Topics and presenters include:

• Effects of Environment on Bovine Respiratory Disease. (Brian Vander Ley, Great Plains Veterinary Educational Center)
• Marketing fat cattle options and what the fed cattle exchange entails. (Steve Sunderman, Producer and Nebraska Cattlemen Marketing Committee Co-chair)
• Livestock and Climate Change- Facts and Fiction. (Frank Mitloehner, University of California-Davis)
• UNL Feedlot Research Update (Galen Erickson and Matt Luebbe, Nebraska Extension)
• Beef Quality Assurance- Feedlot Assessments (Rob Eirich, Nebraska Extension BQA Director)
• Beef Industry Update (Doug Straight, Nebraska Beef Council)

The Nebraska Beef Council will give an update on new beef products and sponsor refreshments.

Preregistration is available by phone, fax, e-mail or mail, and requested by Feb. 1. Cost is $20 for those who preregister, and will be accepted at the door. Cost for those who have not preregistered will be $30.

For more information or a registration form contact Matt Luebbe at the Panhandle Research and Extension Center, 4502 Ave. I, Scottsbluff, NE 69361, phone 308-632-1260, fax 308-632-1365 or e-mail mluebbe2@unl.edu.

A brochure with registration form can be downloaded here: http://go.unl.edu/xmv3.

The Beef Feedlot Roundtable is sponsored by Nebraska Extension and the Nebraska Beef Council and ISU Extension.