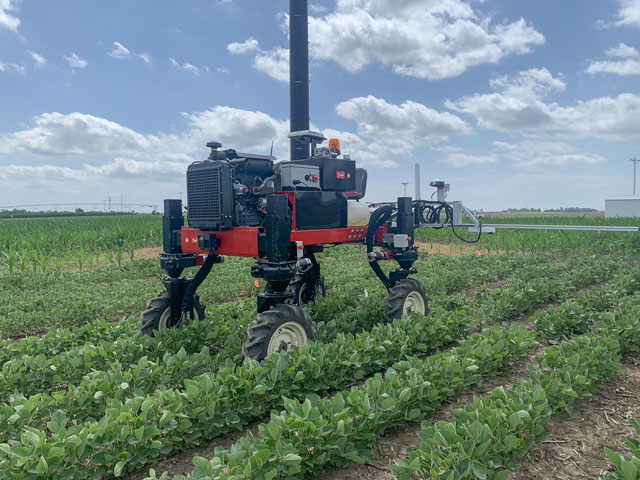 UNL plant scientists and biological systems engineers have been working together to build a device that can collect data through onboard sensors used to measure such things as reflectance, plant height, temperature, and humidity. This automated system is known as Flex-Ro, short for flexible robot, built by UNL's Biological Systems Engineering Department. The autonomous Flex-Ro hit the field for the first time this summer.

The Flex-Ro is a smaller sized tractor that has a variety of sensors to measure closer to ground level to take phenotyping measurements. The team's goal this year is to "collect phenotype data through onboard sensors such as an RGB (red, green, blue) camera, a spectrometer to measure reflectance, temperature and humidity sensors, and ultrasonic sensors to measure height while comparing with measurements from the Spidercam."

The Flex-Ro is intended for multiple purposes and is built to be modular. Industry partner Farmobile allows the team to keep track and playback Flex-Ro robot's paths in the field. Control architecture on the Flex-Ro robot allows to easily integrate many off-the-shelf technology products. The team eventually wants to use the Flex-Ro for seeding cover crops by mounting a bulk seed hopper.

Santosh Pitla said he envisions the machines could be fully autonomous while being supervised by a person. The Flex-Ro has obstacle sensors on it to prevent the robot from running into objects and would need to be trailered to a field, he said. The team believes the Flex-Ro could be a product which, in the future, could aid researchers with a few acres of plots to farmers with thousands of acres. Before this can happen, however, there are some hurdles to overcome. More real field testing needs to be done before the team can take the next step.

To read more about the project visit Autonomous Flex-Ro hits the field at University of Nebraska and Robots in the Field Research Driving Future Precision Ag.