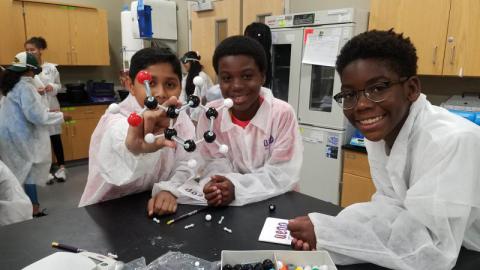 With support from the Army Educational Outreach Program (AEOP), the Walter Reed Army Institute of Research (WRAIR) hosts the Gains in the Education of Mathematics and Science (GEMS) program. WRAIR GEMS invites college-aged interns to mentor middle and high school students in a professional laboratory environment. During nine single-week sessions, GEMS students participate in a hands-on learning experience and gain exposure to the diversity of STEM fields and careers.

The mission of GEMS is:
• To increase interest, engagement, and performance in STEM for student participants.
• To support undergraduates and recent graduates in a STEM education internship.
• To bring experiential learning and mentorship to middle and high school students from underrepresented populations in the Washington D.C. metropolitan area.

WRAIR GEMS is seeking STEM undergraduates to participate in our 2021 summer program as "near-peer mentors." As we adjust to ongoing concerns surrounding the COVID-19 pandemic, the GEMS program will be implemented as a virtual STEM enrichment program or a mix of virtual and in-person programing (decision pending).Mentors will have access to our teaching lab facility and technology to develop, prepare, and implement learning materials. We provide competitive monthly stipends commensurate with education and experience.

As a near-peer mentor, you will:
• Serve as a lab instructor, subject matter expert, role model for academic success, curriculum developer, and lab safety officer.
• Design, facilitate, and evaluate original STEM modules, which draw from topics in your area(s) of interest.
• Collaborate with a team of fellow near-peer mentors to implement additional modules throughout the summer.
• Prepare and submit formally written lesson plan(s) for all implemented modules.
• Prepare a poster to present at an in-house symposium for peers, guests, and WRAIR scientists.

The ideal near-peer mentor is/has:
• Currently majoring in, and passionate about a STEM field.
• Interested in teaching, mentoring, and communicating science to the community.
• Previous experience in a research laboratory (preferred).
• Previous experience as a teaching assistant, mentor, and/or volunteer (preferred).
• Positive attitude, willingness to work in a fast-paced environment, and a sense of humor.
• Flexible and able to work well within a team.

Register and apply online at https://www.usaeop.com/program/silverspring/ and select "Apply Today" under the "Additional Details" heading (near-peer mentor applications open 15 November 2020* and close 15 January 2021*).