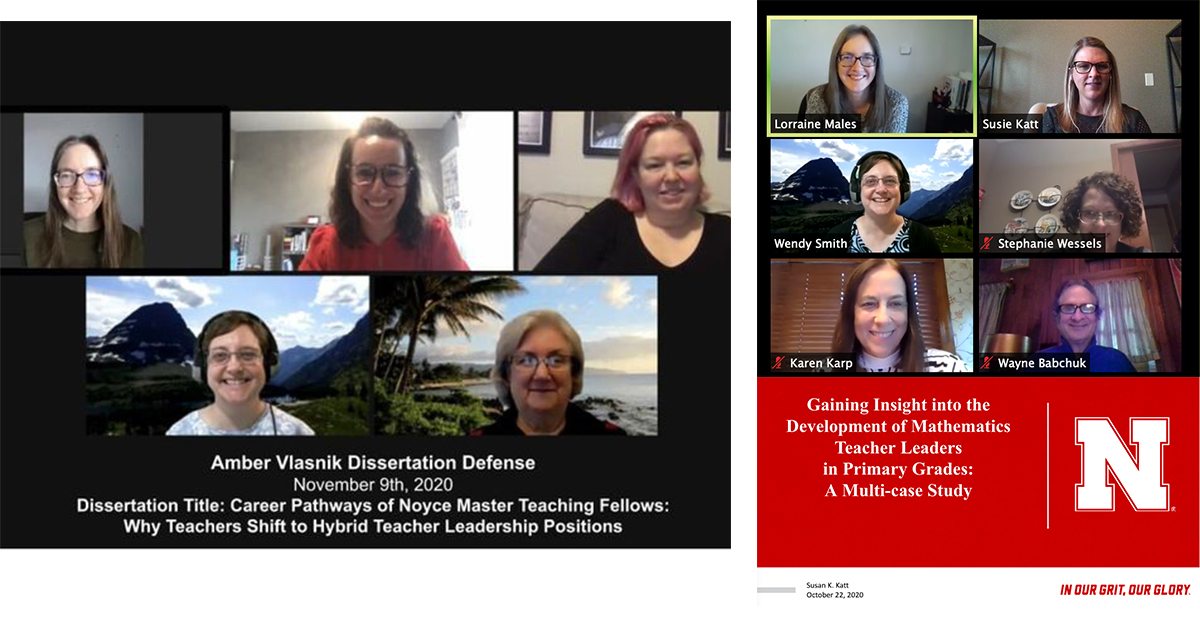 NebraskaMATH outstanding teacher leaders Amber Vlasnik and Susie Katt are graduating Dec. 19, 2020, with their doctorates in Educational Studies, both with a Teaching, Curriculum, and Learning specialization. Learn more about their journeys.

Amber Vlasnik, Ph.D.

In 2010, Amber Vlasnik joined the New Teacher Network, working toward her Master of Arts for Teachers degree while as a teacher at Lincoln High School. She also participated in Nebraska Algebra. When she graduated in August 2012, she joined the NebraskaNOYCE grant as a Master Teaching Fellow. From there, she continued to take courses regularly toward her doctorate.

"I love learning. Being part of the NebraskaMATH programs really ignited a passion in me for teacher leadership," said Amber, who is now a Professional Development Consultant at ESU 6. "Not only did I begin to see myself as a teacher leader but I also wanted to learn as much as I could about the teaching and learning that happens in math classrooms."

For her dissertation, "Career Pathways of Noyce Master Teaching Fellows: Why Teachers Shift to Hybrid Teacher Leadership Positions," Amber was able to interview four teacher leaders. Their experiences and ideas inspired her, and she hopes their stories will inspire others as well.

"When we step outside our own classrooms, our own schools, and our own experiences, we open ourselves up to be surprised and to be stretched," Amber said. "I have learned so much about myself as a learner and as a teacher. When you take classes alongside teachers from across the state who are doing amazing things every day for students, it makes you want to be better. I now approach my work every day with a growth mindset—striving to be better today than I was yesterday."

Amber would like to thank her committee members Dr. Lorraine M. Males and Dr. Wendy Smith, who were the co-chairs, and Dr. Gwen Nugent and Dr. Amanda Thomas; her colleagues and the lessons she learned with each of her professional learning communities; her study participants; and her family for their support.

"It is important for practicing teachers to continue their education and to contribute to the existing research about teaching and learning," Amber said. "No one knows more about what happens in Nebraska's classrooms than the teachers themselves. There are so many opportunities to do action research in the classroom and to contribute to what we know about teaching and learning mathematics."

Susie Katt, Ed.D.

Susie Katt, the K-2 District Math Coach for Lincoln Public Schools, began her doctoral journey in Spring 2013, upon completion of the Primarily Math program. She later became a Noyce Master Teaching Fellow.

"I was eager to continue to think deeply about mathematics teaching and learning, and pursuing my doctorate was the next step in my educational journey," Susie said.

Through this process, Susie said she has learned that deadlines keep her motivated and, most importantly, it is OK to ask for help.

"I also was reminded of how important it is for teachers to have a strong network of other teachers who they can rely on for support," Susie said.

Susie's dissertation was titled "Gaining Insight into the Development of Mathematics Teacher Leaders in Primary Grades: A Multi-case Study," and her committee members were Dr. Wendy Smith (co-chair), Dr. Lorraine Males (co-chair), Dr. Wayne Babchuk, Dr. Stephanie Wessels, and Dr. Karen Karp.

Susie would like to thank her committee members; Dr. Ruth Heaton; Dr. Matt Larson; Dr. Jim Lewis; Lindsay Augustyn; numerous close friends and colleagues; her dad, Allen; and her family, Jason, Tenley, and Huxton, for their support and encouragement.