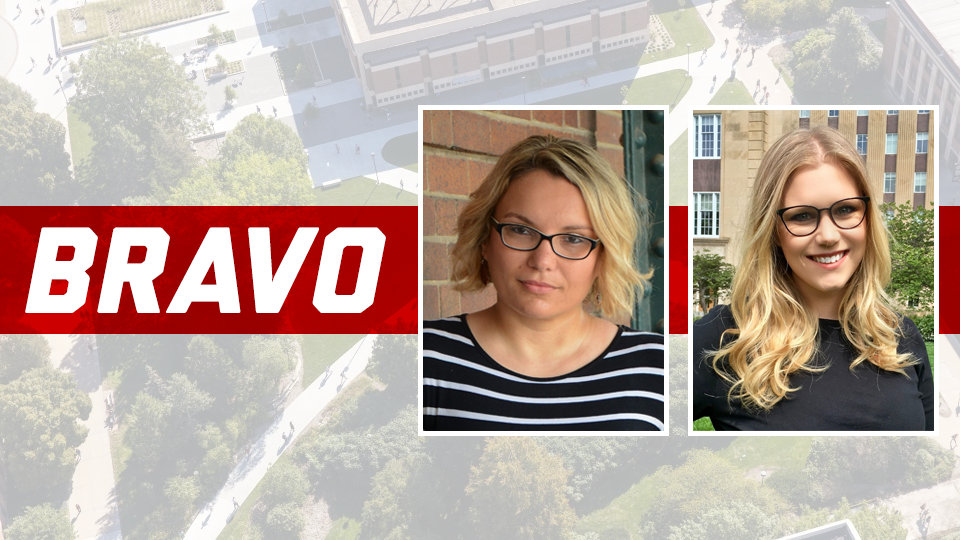 By Courtney Van Hoosen | Office of Global Strategies

Emira Ibrahimpasic, assistant professor of practice in the School of Global Integrative Studies, and Kate Kunzman, Education Abroad coordinator in the College of Arts and Sciences, earned the 2021 Award for Excellence in Education Abroad Curriculum Design from The Forum on Education Abroad for their summer 2021 course, "Negotiating Peace: From Conflict to Coexistence."

The award honors faculty who develop and implement innovative and effective education abroad curricula. It is the education abroad field's only award presented to an individual or group of individuals for excellence in the design of an education abroad course.

"We are so proud of Kate and Emira for earning this award and showing how our faculty and staff can adapt to bring new opportunities for global experiential learning to our students," said Cody Hollist, interim director of Education Abroad and associate professor in the Department of Child, Youth and Family Studies. "It's a huge accomplishment to be recognized at the national level, especially since this award has previously never been given to an on-campus course."

Ibrahimpasic and Kunzman drew on their experiences developing faculty-led programs and resources and best practices from The Forum, NAFSA: Association of International Educators, and the School for International Training to create a virtual summer course designed to keep students connected with the world while travel was paused due to COVID-19. Kunzman also drew inspiration for the course from her previous experience working at the Democratic Process Institute after earning her master's degree in conflict resolution in divided societies from King's College London.

"We wanted to develop an intentionally-designed virtual global experience that utilized inclusive pedagogy and incorporated diverse perspectives while also focusing on achieving learning outcomes," said Ibrahimpasic.

The course began by grounding students in an understanding of colonialism, native lands and historical conflicts in the United States before moving on to understanding modern-day conflicts in Syria and Ireland. Guest lecturers included experts with real-world experience in conflict negotiation and those affected by the conflicts studied, including former Irish Prime Minister Bertie Ahern who helped negotiate the 1998 Good Friday Agreement in Northern Ireland.

"It was an incredible opportunity for students to hear from former Prime Minister Bertie Ahern. His discussion with the class humanized the peace process and helped solidify the course content in a real world experience," Kunzman said.

Building on the success of the course, Ibrahimpasic and Kunzman plan to offer it again with additional historical components as a summer 2022 study abroad experience in Ireland and the United Kingdom.

"While we love the virtual aspect of the course, we are eager to make the course an in-person experience abroad," Ibrahimpasic said. "The course structure, readings and experiences will remain very similar to what we did with our virtual class, except this time instead of reading about different sites of significance we will visit them. We will also get a chance to meet in person with many of the speakers we met virtually this past summer."

In addition to the national accolade, the "Negotiating Peace" course is an example of how the university aims to connect local and international partners in a meaningful, accessible way that supports innovative student learning, as outlined in the Forward Together global strategy.

"It is an honor to be recognized," added Ibrahimpasic. "More importantly, it's wonderful to know that virtual classes can be as engaging as in person classes and that global education doesn't always have to involve travel. It is precisely the virtual aspect of the course that made it possible for us to bring all the experts to class, a feat that isn't always possible with traditional study abroad courses."

The award will be presented to Kunzman and Dr. Ibrahimpasic during The Forum's 18th annual conference in March 2022. Funding for the "Negotiating Peace" course was provided by the Education Abroad Global Innovation Fund, which aims to provide engaging global experiences through hands-on coursework that enables cultural interaction without travel.