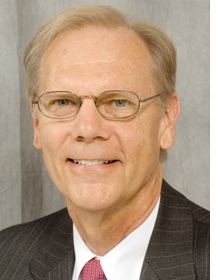 The 2014-15 Heuermann Lecture season kicks off at 3:30 p.m. Thursday, Sept. 25, when Donald Wilhite, professor at the University of Nebraska-Lincoln's School of Natural Resources, leads a panel discussion on the issues surrounding our changing climate.

"Understanding and Assessing Climate Change: Implications for Nebraska" is the title of the lecture, which will be held at the Nebraska Innovation Campus Conference Center auditorium, 2021 Transformation Dr.

Associated economic, social and environmental risks, as well as the challenges Nebraskans will face will be the featured topics. Other panel members include Robert Oglesby, Clinton Rowe and Deborah Bathke, all UNL faculty members in the Department of Earth and Atmospheric Sciences. Oglesby is a climatologist with a joint appointment in the School of Natural Resources. Rowe's expertise is in climate modeling and paleoclimatology. Bathke is a climatologist.

The Heuermann Lecture will coincide with the release of a report on climate change compiled by these UNL faculty members. Copies of the report will be available at the lecture and on-line following the lecture. One of the goals of this report is to identify the key challenges associated with climate change for the state and potential actions to adapt to our changing climate. "Action now is a preferable and more cost effective than reaction later," says Wilhite.

Wilhite is the founding director of the International Drought Information Center and the National Drought Mitigation Center. He served as director of the National Drought Mitigation Center from 1995 until 2007, when he was appointed director of UNL's School of Natural Resources, an appointment he kept from 2007 until 2012. Throughout his career, Wilhite has worked with many state, federal and international agencies, including several agencies of the United Nations, and many foreign countries with the development and implementation of integrated drought monitoring programs and risk-based drought preparedness strategies and policies.

"Globally and locally, we face significant economic, social and environmental risks associated with climate change," Wilhite said. "The body of scientific evidence confirms with a high degree of certainty that human activities in the form of increased concentration of greenhouse gases since the beginning of the Industrial Revolution, changes in land use and other factors are the primary causes for the warming the planet has experienced, especially in recent decades."

Current and projected changes extend beyond temperature increases and include changes in precipitation amounts, seasonal distribution and frequency and intensity of extreme weather events. The increasing frequency of extreme events raises serious concerns for all nations due to economic, social and environmental costs associated with responding to, recovering from and preparing for these events.

"Nebraskans will face many challenges as a result of climate change," he added. "However, imbedded in each of these challenges are opportunities to create greater resilience as we adapt to these observed and projected changes in climate."

Heuermann Lectures are free and open to the public. Lectures focus on providing and sustaining enough food, natural resources and renewable energy for the world's people, and on securing the sustainability of rural communities where the vital work of producing food and renewable energy occurs. They are made possible by a gift from B. Keith and Norma Heuermann of Phillips, long-time university supporters with a strong commitment to Nebraska's production agriculture, natural resources, rural areas and people. A 3 p.m. reception in the Nebraska Innovation Campus Conference Center banquet hall precedes the lecture.

Lectures are streamed live online at http://heuermannlectures.unl.edu, and aired live on UNL campus and state cable channel 4. Lectures are archived after the event and are broadcast on NET2 World at a later date.

More details at: http://go.unl.edu/87y