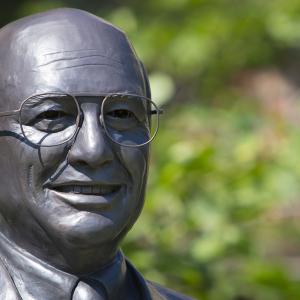 Statues honoring four Nebraskans who made lasting, national impacts on agriculture and natural resources have come to the University of Nebraska-Lincoln's East Campus.

Commissioned in 2012 as part of the 150th anniversary of the Morrill Land Grant Act of 1862, the life-sized statues are of former U.S. Secretaries of Agriculture J. Sterling Morton, Clifford Hardin, Clayton Yeutter and Mike Johanns. The statues, paid for with donated funds, are in the green space north and east of Filley Hall.

The statues will be dedicated during a 3 p.m. Sept. 20 ceremony. The event is free and open to the public and will be held in the green space north of Filley Hall. If it rains, the dedication will be moved to the nearby Nebraska East Union. Game day attire is encouraged for the event.

Omaha artist Matthew Placzek designed the sculptures.

"It is very fitting that these four Nebraskans be remembered and honored by the university for careers dedicated to agriculture and natural resources. That service extended even well beyond their terms as secretaries of agriculture," said Ronnie Green, Harlan vice chancellor of the university's Institute of Agriculture and Natural Resources.

Morton was appointed agriculture secretary by Grover Cleveland and served from 1893 to 1897. Known for his dedication to tree planting, Morton served in the state legislature and as governor of Nebraska Territory. He was also a member of the State Board of Agriculture, where he came up with the idea to create a holiday to celebrate the planting of trees. The first Arbor Day was held in 1872 and quickly became a national holiday.

Hardin served as agriculture secretary from 1969 to 1971, having been selected by Richard Nixon. His accomplishments included the 1970 farm bill. Hardin was also chancellor of the University of Nebraska from 1954 to 1968. He is credited with being the founder of the modern University of Nebraska.

Yeutter was agriculture secretary from 1989 to 1991 under George H.W. Bush. He and a team from the U.S. Department of Agriculture were responsible for much of the 1990 farm bill, which moved U.S. farm policy toward greater market orientation. He served in three sub-cabinet posts and in three cabinet or cabinet-level posts; secretary of agriculture, U.S. trade representative, and counselor to the president, the only Nebraskan ever to do so.

A U.S. senator since January 2009, Johanns was U.S. secretary of agriculture from 2005 to 2007, in the George W. Bush administration. Johanns was also Nebraska's 38th governor from 1999 to 2005. As a senator, he serves on five committees, including Agriculture, Nutrition and Forestry, and Environment and Public Works.