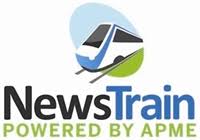 Want to learn more about verifying facts, telling stories on mobile, enterprise reporting and using social media for reporting?

Sign up for NewsTrain, a national one-day, hands-on digital journalism training that will boost your skills and help you tell more compelling stories at the DN, in your classes or at your internship this summer.

CoJMC is hosting NewsTrain on Saturday, April 4, and a Google tools/Society of Professional Journalists training the afternoon of Friday, April 3. Combined, the sessions will cover topics such as using social media for reporting, video editing, data scraping, mobile storytelling and more.

NewsTrain is $75, but students can register for free, and the first 20 people get a free AP Stylebook online subscription! NewsTrain also includes two light meals.

The college has funded 20 student scholarships. Students can use the promo code: herbie when they register. There are also five diversity scholarships for journalists and students of diverse backgrounds. Students can apply by Feb. 19 at https://docs.google.com/forms/d/e/1FAIpQLSdqg2s9L2vmNU81xhdNnEPuf497l7nmb7ABtGNAodU4pbVpug/viewform.

Register for NewsTrain, Google tools or both at https://www.apme.com/page/LincolnNebraskaNewsTrain2020.

Questions? Email CoJMC's NewsTrain organizer Jessica Fargen Walsh at jessicafargenwalsh@gmail.com.