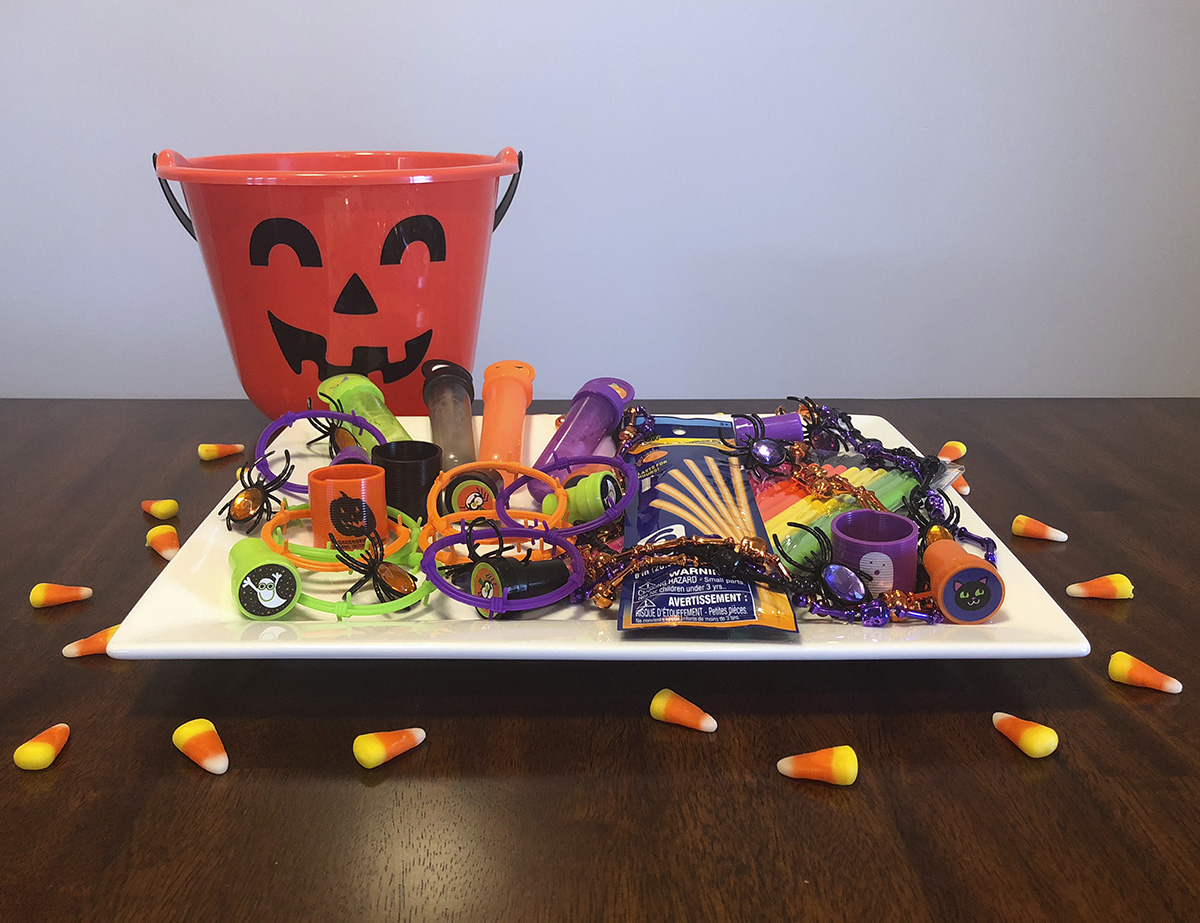 By Kayla Colgrove, MS, RDN, ACSM-CPT, Extension Educator

Candy and costumes and pumpkins, oh my! Halloween is near and it's important to mix in healthy alternatives with all the sweet treats you will be able to find this time of year. Try these Halloween alternatives to help find a healthy balance:

ENJOY CANDY IN MODERATION
It is important to enjoy candy and sweet treats in moderation. They have a lot of calories but few nutrients. Practice portion control by eating candy over a period of time while keeping the candy out of sight to avoid mindless eating. Pick out your favorite candy and enjoy a few pieces each day. Offer a smaller serving such as fun-size candy or splitting a candy bar. To add some healthy nutrients, eat a piece of candy with a glass of milk or apple slices.

OFFER NON-FOOD TREATS
This is not only a great idea for trick-or-treaters looking for healthier options, but it also allows kids with food allergies to enjoy trick-or-treating. If offering non-food treats, join the Teal Pumpkin Project® by FARE, which raises awareness of food allergies while creating a safer, happier Halloween for all kids. Simply place a teal pumpkin in front of your home to indicate you have non-food treats available for trick-or-treaters. Don't forget to keep your food treats and non-food treats in separate bowls. Offer candy or a non-food item for each trick-or-treater to choose.

Options for non-food treats include:
• Glow jewelry such as bracelets or necklaces
• Fun pencils, crayons or erasers
• Novelty jewelry such as bead necklaces, rings or bracelets
• Bubbles
• Stickers or rubber stamps
• Slinky toys
• Temporary tattoos

MAKE YOUR OWN HEALTHIER TREATS
When you make food at home, you are in control of the ingredients and portions. Choose recipes that include fruits, vegetables, whole grains, low-fat dairy and/or lean protein while limiting added sugars, saturated fat and sodium for healthier options. Serve fruit as a naturally sweet dessert or snack instead of foods with added sugars.

Halloween Fruit Parfaits (see recipe in this e-newsletter) utilize the natural sweetness of pineapple and mandarin oranges topped with Greek yogurt to add protein and calcium. One piece of candy corn is added for a festive healthy snack or dessert. Make this simple fruit parfait with a Halloween twist for your family and friends.

Reference:
• Food Allergy Research & Education's (FARE) Teal Pumpkin Project at http://www.foodallergy.org/education-awareness/teal-pumpkin-project.