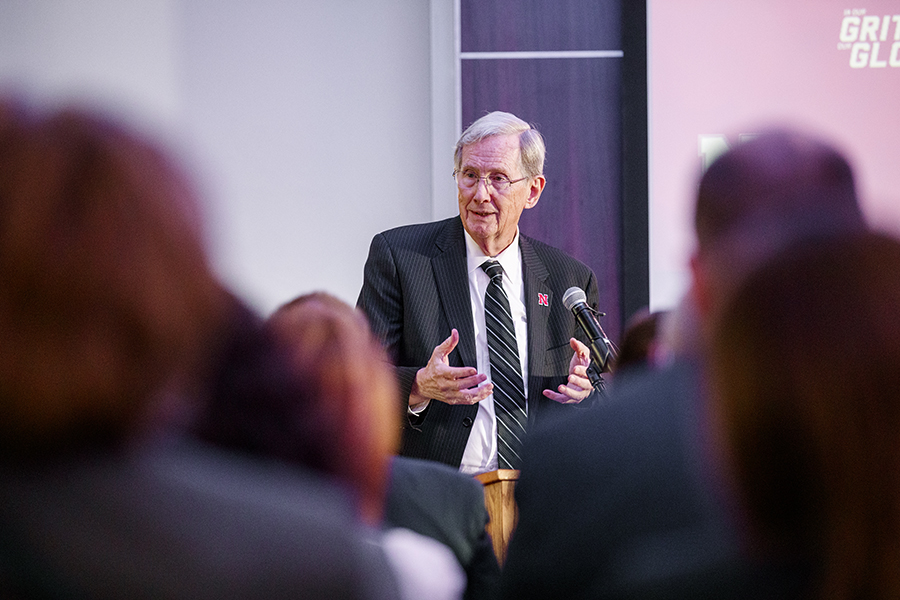 by Deann Gayman | University Communication

More than 120 low-income Nebraska students will benefit from a new five-year, $3.56 million grant from the National Science Foundation while they pursue careers in science, technology, engineering and math.

University of Nebraska-Lincoln officials announced Aug. 30 that the institution is partnering with Southeast Community College and Western Nebraska Community College to build out the state's STEM workforce through a new grant, STEM Career Opportunities in Nebraska: Networks, Experiential-learning and Computation Thinking.

"STEM CONNECT is an important component of UNL's continuing investment in STEM education," said Bob Wilhelm, vice chancellor for research and economic development. "Nebraska's workforce needs in the STEM fields will only continue to grow, and the university is proud to be a key partner in meeting these needs while providing opportunities to underserved students."

This funding from NSF's S-STEM initiative will provide scholarships and academic support for low-income students, specifically targeting underrepresented minorities, women, and rural and first-generation students. Students who begin at a community college in the academic-transfer program will take courses to build their strengths in math and computer science, while the students who begin at Nebraska will major in math, computer science, computer engineering or software engineering.

"We will be working with academically gifted, low-income students, and help them to successfully enter the workforce or pursue graduate education," said Jim Lewis, Aaron Douglas Professor of mathematics and STEM CONNECT's principal investigator. "We know that finances are not the only hindrance to student success. This grant will also allow us to build out academic communities, establish faculty mentors and adapt curricula here and at our partner institutions that ensure success, based on existing research."

At Nebraska, Lewis leads a team that includes Amy Goodburn, senior associate vice chancellor and dean of undergraduate education; Brittany Duncan, assistant professor in computer science and engineering; Petronela Radu, Olson Professor in mathematics; and Wendy Smith, research associate professor in the Center for Science, Mathematics and Computer Education.

Financial need and scholarship amounts will be determined by the Free Application for Federal Student Aid, better known as FAFSA, and scholarships can be as much as $8,000 per year. They are renewable for four years at Nebraska, or two years at SCC or WNCC and then funds will follow students for two more years if they transfer to Nebraska.

Lewis and the team will identify a first cohort of six to eight students who will receive funding beginning with the spring 2020 semester, and these students will become the program's first peer mentors. An additional 20 students will be chosen to begin studies at Nebraska in fall 2020. Between SCC and WNCC, an additional 32 students will receive a scholarship in either spring or fall 2020.

The grant also funds a research study, led by Smith and Rebecca Carr, associate director of institutional research at SCC. The study examines which factors affect retention, academic success and graduation in STEM fields among low-income students, and how those factors differ among students who transfer from a two-year to a four-year institution.

The program boasts a large interdisciplinary team of researchers, advisers and administrators from all three institutions, including SCC and WNCC principal investigators Sandeep Holay and William Spurgeon, as well as SCC's Dean of Arts and Sciences Carolee Ritter and WNCC physics instructor Scott Schaub.

"As we put this program together, we discovered we have a lot of knowledge on these issues in our midst, and we're going to draw expertise from many domains to ensure the success of these students," Lewis said.

Editor's Note:
High school math teachers - if you know a senior who will be applying to UNL, SCC or WNCC for the Fall 2020, please let them know about this scholarship opportunity. They can contact us at nebraskamath@unl.edu for more information.