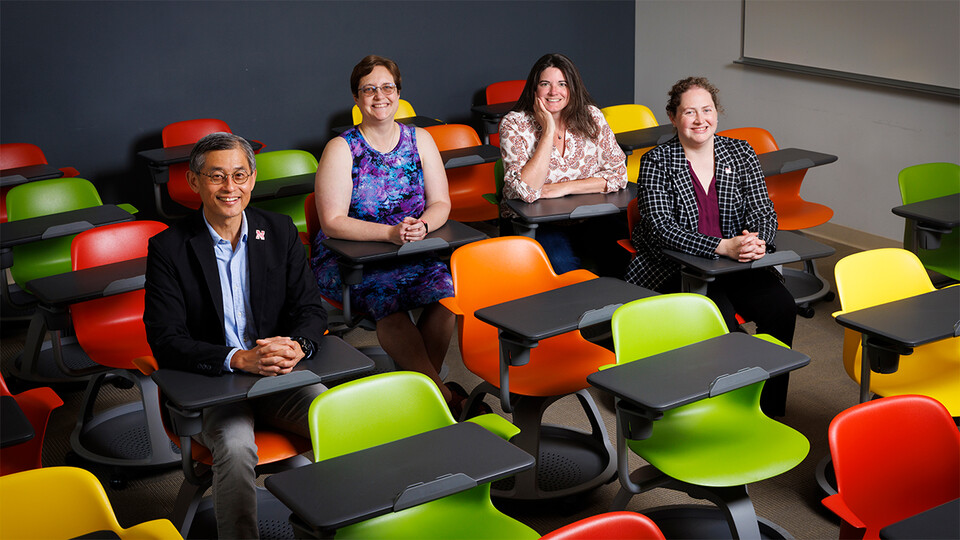 by Tiffany Lee | Research and Economic Development

For students at a two-year college, making the jump to a four-year institution can be daunting. The transition often entails leaving tight-knit communities, smaller classes and daily interactions with instructors for full lecture halls, farther-removed teachers and a larger, more affluent student body. Figuring out financial aid, planning course loads and navigating an ingrained social hierarchy add to the pressure.

The University of Nebraska–Lincoln is leading a 22-institution research collaboration aimed at smoothing this transition by building strong partnerships between two- and four-year colleges. With a five-year, $3 million grant from the National Science Foundation, the team will conduct research aimed at filling a critical gap in the national understanding of what it takes to help transfer students succeed. Nebraska, whose share of the award is nearly $1.5 million, will headquarter the new research hub.

It is one of the first four research hubs funded through a new NSF program that builds on the agency's longstanding Scholarships in STEM program, or S-STEM, which funds scholarships and institutional support systems for low-income STEM students. Through the research hubs, NSF aims to identify what's working — and what's not — at S-STEM sites using mixed-methods research. Each hub has a different focus, with the overall goal of pinpointing the conditions that facilitate success for the STEM students.

Wendy Smith, research professor of mathematics and incoming director of the Center for Science, Mathematics and Computer Education, is the project's principal investigator.

"I think that having better and stronger partnerships between two- and four-year colleges is only going to benefit students," Smith said. "And it will benefit the students who, in some sense, are starting higher education the most disadvantaged. This research network is a great way to try to broaden participation in STEM and meet the goals we have of a more diverse STEM workforce in the United States."

The hub builds on the university's S-STEM program, STEM CONNECT, which provides scholarships and academic support for academically gifted, low-income students and includes partnerships with Southeast Community College and Western Nebraska Community College.

Smith will tap into the infrastructure and resources of Nebraska's Center for Science, Mathematics and Computer Education to lead the research hub, which comprises a geographically diverse group of institutions with similarly focused S-STEM programs. The team's findings should mark a major stride forward in the field: Currently, very little national data exists about the obstacles that transfer students face.

This dearth of information has implications for the STEM workforce. Two-year colleges enroll nearly half of the nation's undergraduate students, about 40% of whom enroll in a STEM or health sciences degree program. But oftentimes, these students don't end up with a bachelor's degree: Though roughly 80% of first-time two-year college students say they want to earn a bachelor's degree or higher, only 29% do so in six years.

This means the United States is missing a critical opportunity to grow and diversify the STEM workforce, as students at two-year colleges are more likely to be low-income and from historically underrepresented groups.

To combat the trend, Smith's team is taking a closer look at how two- and four-year colleges can work together to help students clear the social, emotional, academic and logistical hurdles posed by a transfer. The researchers will form topic-based professional learning communities at each S-STEM site, uniting faculty and other professionals to discuss issues in a given area, such as student advising, financial aid or teaching specific introductory STEM courses in ways that foster students' sense of belonging. Findings from each community will be shared and synthesized across the hub.

The team will also conduct visits to approximately 25 S-STEM sites over the grant period, interviewing program leaders to identify the practices that bolster student success. It will collect and analyze data from all of the S-STEM sites to assess time-to-graduation, graduation rates and more.

Smith said one major goal of the research is identifying methods for ensuring mutuality and balance in partnerships between two- and four-year colleges.

"Something we're trying to address overtly is that there are definitely historical power imbalances," she said. "There's an implicit idea that four-year colleges are better than two-year colleges. We want to agree on best practices as part of a true partnership, and not one with a power imbalance, with one side telling the other side what to do."

The researchers hope that stronger collaborations will mitigate the transfer shock that students experience when making the move to a larger institution, said Husker engineer Brittany Duncan, a project co-investigator. With NSF funding, Duncan has sponsored seven S-STEM students in her Research Experiences for Undergraduates site at the Nebraska Intelligent MoBile Unmanned Systems (NIMBUS) Lab, which focuses on unmanned systems and aerial robots.

Nebraska is one of the first schools nationwide to embed S-STEM students in an REU site, and Duncan has observed the benefits such a partnership can provide two-year college students. They gain personal connections, a support network and a means of envisioning themselves as successful contributors to a large, research-focused campus, she said.

"I think one finding will be that having these types of connections prior to and concurrently with transfer will be a big boon in the retention of these students," said Duncan, associate professor of computing and co-director of the NIMBUS Lab. "It's a good way for them to develop relationships they can lean on. When they hit a roadblock, they know who they can talk to."

The Husker research team also includes Leen-Kiat Soh, Charles Bessey Professor of computing, and Mindi Searls, research assistant professor in the Center for Science, Mathematics and Computer Education and the Department of Earth and Atmospheric Sciences.

Collaborative research sites include Clemson University, University of Missouri-Kansas City, Michigan State University and University of Texas at Arlington. Other partners are East Carolina University, University of North Carolina at Greensboro, Augsburg University, Southeast Community College, Nebraska Indian Community College, Century College, Dallas College, Kansas City Kansas Community College, Metropolitan Community College-Kansas City, Minneapolis College, Mott Community College, Normandale Community College, Pitt Community College, Spartanburg Community College, Tarrant County College, Trident Community College and Washtenaw Community College.