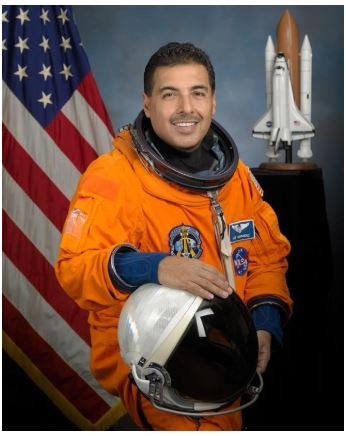 Growing up as a migrant worker, Hernández wanted to fly in space after he heard that the first Hispanic-American astronaut, Franklin Chang-Diaz, had been chosen to travel into space. He went on to be a part of the STS-128 Discovery crew that flew the 128th Shuttle mission and the 30th mission to the International Space Station. To learn more about Jose's career, check out his astronaut biography at https://www.nasa.gov/sites/default/files/atoms/files/hernandez_jose.pdf.

During this unforgettable interactive event, students will have the opportunity to ask Hernández their own questions. At the end of the virtual connection, students will be challenged to complete one of the four activities from the Propulsion with Space Launch Systems Educator Guide (available in English and Spanish). Educators are invited to share their experiences and students' solutions by posting in the comments at the end of its associated CONNECTS knowledge article. Educators are invited to join the "Special Event with Jose Hernandez" exclusive group in CONNECTS to submit their students questions before the event. Questions will need to be submitted for consideration by Sept. 15.

The event will take place on Sept. 22, 1:15 p.m. ET to 2:00 pm ET. This is an exclusive event for NASA CONNECTS members only. If you know a colleague who would like to register for this Classroom Connection, invite them to join NASA CONNECTS so that they can participate in not only this exciting event but in future CONNECTS opportunities as well!

Click Here to Register by Sept. 18: https://nasacentral.force.com/s/course-offering/a0Bt000000A3k39EAB/celebrate-hispanic-heritage-month-with-astronaut-josé-hernández

* Registration does not guarantee selection to participate in this event. This event will not be recorded. Following the event educators will be asked to share their school name and how many students, educators, and administrators participated.