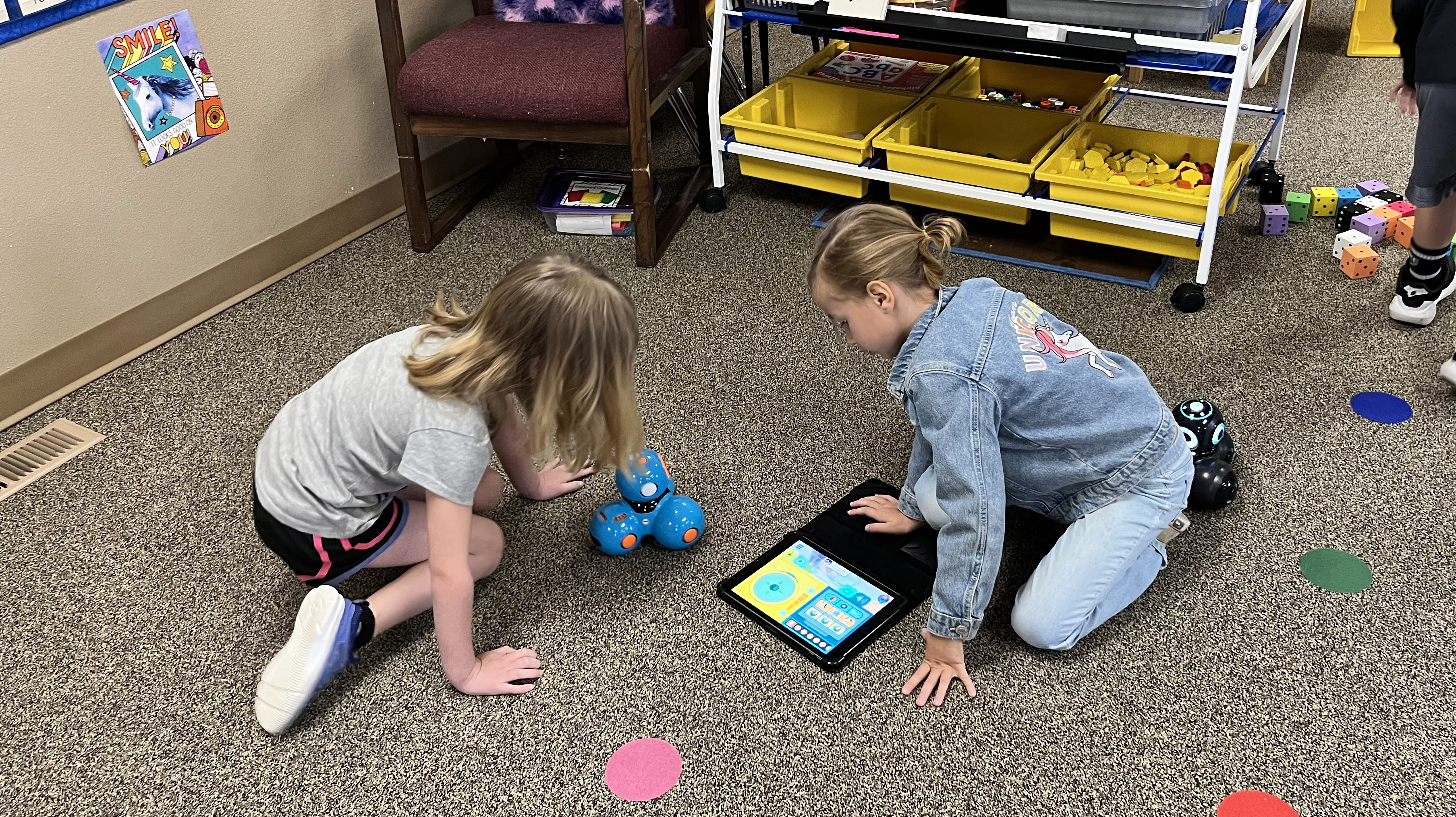 by Tiffany Lee | Research and Economic Development

In the Humphrey Public Schools system — student population about 280 — teacher Mitzi Luedtke is the go-to person for all things technology. From troubleshooting problems with devices to updating software to rebooting the internet, she does it all.

"If it breaks, I fix it or figure out how to fix it," Luedtke said.

She's also the sole person in the Humphrey, a rural Nebraska town, to teach students a subject that is increasingly foundational for modern life: computer science. Luedtke, a special education teacher by trade, has no formal training in the field. But about 10 years ago, she increasingly believed that success in today's digital world would require exposure to coding, robotics and more. So she created her current role as technology coordinator and teaches K-4 students the basics.

"I was never taught coding; I just went out and taught myself," she said. "I recognized that technology is where the future is at."

In Nebraska, a story like Luedtke's is not uncommon. Because the state requires no specialized training to teach computer science, many who teach the subject are self-taught. There's no standardized statewide curriculum, so instruction varies from one school to another. And rural teachers are often isolated from the state's other computer science educators, making the exchange of information and resources more challenging.

For the past five years, a University of Nebraska–Lincoln research team has been tackling these problems with a $2 million National Science Foundation-funded program. AIR@NE, which stands for Adapt, Implement and Research at Nebraska, has enabled 110 Nebraska K-8 teachers to take graduate-level courses in computer science and pedagogy; participate in a statewide network of computer science teachers; and spend $1,500 on computer science equipment for their schools, among other benefits.

Principal investigator Leen-Kiat Soh designed the program, now in its final year, with an eye toward increasing the skills and confidence of Nebraska teachers who deliver computer science instruction. Better-trained teachers are key to the long-term goal: helping students become proficient in a crucial discipline.

"Computing is ubiquitous now across everything that we do," said Soh, Charles Bessey Professor of computing. "It impacts our daily lives, from the ads that we see; the phones that we use; how we drive; smart support for our activities. To be an informed user of these applications, we need to know a bit about how computer science and algorithms work."

But bringing computer science to students is difficult, particularly in smaller districts where time, resources and expertise are stretched thin. Terry Julian, technology facilitator for Hastings Public Schools, participated in AIR@NE's second cohort and later served as a teacher leader.

For Julian, one of the program's most significant benefits was that it plugged her into a network of similarly situated teachers from across the state. Like Luedtke, Julian is her district's lone ranger in computer science, which can lead to burnout, she said. The program helped her refuel and gain new ideas to help Hastings' roughly 3,600 public school students.

"Just knowing that there are other people who are doing it individually in their schools and being able to connect with them — and with Lincoln Public Schools, which has been doing this for so many years — has been huge," Julian said. "There's no way I would be able to do it as well, or be able to get teachers in my district as interested, without the resources from the program."

These resources include instructional and curriculum materials, derived from a successful model used in LPS since 2014, that teachers can adapt to their needs. Valerie Lackey, a member of the first cohort and a teacher leader for the four subsequent groups, said one of the program's major strengths is empowering teachers to tailor instruction according to their schools' schedule and capacity.

"You can infuse a classroom with computer science … you don't have to have a separate time to teach the subject," said Lackey, a math and science teacher for Syracuse-Dunbar-Avoca Public Schools. "The way we've done the program helps teachers see that it can be a standalone course; or you can do a once-per-week special for the kids; or you can incorporate it into your classroom."

The teachers also gained a bird's-eye view of how computer science instruction should progress across grade levels. This is particularly important as Nebraska rolls out a new computer science graduation requirement, set to take effect in the 2026-2027 school year. AIR@NE helped teachers like Luedtke, who focus on elementary students, see the bigger picture.

"I finally had a scope and sequence of, 'Oh, I need to get here. I know now how I'm going to get to those spots,'" she said. "It was a game changer."

The program hasn't just benefited rural educators. Teachers from Lincoln Public Schools — considered a national leader in computer science education — also gained new skills. For Matt Rinne, who teaches computer science course at Pyrtle Elementary School, it was an opportunity to boost his technical expertise.

"When kids come to me with a higher-order concept question, I can answer their question much more professionally. I can get to a specific answer much quicker," he said.

Gwen Nugent, research professor with the Nebraska Center for Research on Children, Youth, Families and Schools, led the project's research component. Her team measured the participating teachers' knowledge, confidence and attitudes about computer science at different points in time. They found significant — and sustained — increases across the three categories.

"There's not a lot of research on K-8 computer science, and people are very interested in 'OK, you get these big effects with professional development. But do they hold?'" Nugent said. "What we found is that the teachers, a year afterward, are still maintaining those increases."

After AIR@NE concludes, Soh and the teachers aim to continue the program's momentum through CSTA Nebraska Huskers, a local computer science community for teachers. Soh is also pursuing additional grant funding that would strengthen computer science education for pre-service teachers, giving them a head start before they step foot in the classroom.

Ultimately, the goal is to broaden access to high-quality computer science instruction. For some students, early exposure could alter their academic trajectory. Julian, Hastings' technology facilitator, has seen this firsthand.

"I will never forget the one time I went into a classroom … and the teacher came to me, and she literally had tears in her eyes, and she said, 'Terry, that student doesn't get it in any other subject; she always feels a little insecure because she just struggles in school. But she's walking around helping other people with this.' And that just really impacted me."

The AIR@NE team also includes Wendy Smith, director of the Center for Science, Mathematics and Computer Education and professor of mathematics; Guy Trainin, professor of teaching, learning and teacher education; and Kent Steen, LPS curriculum specialist.