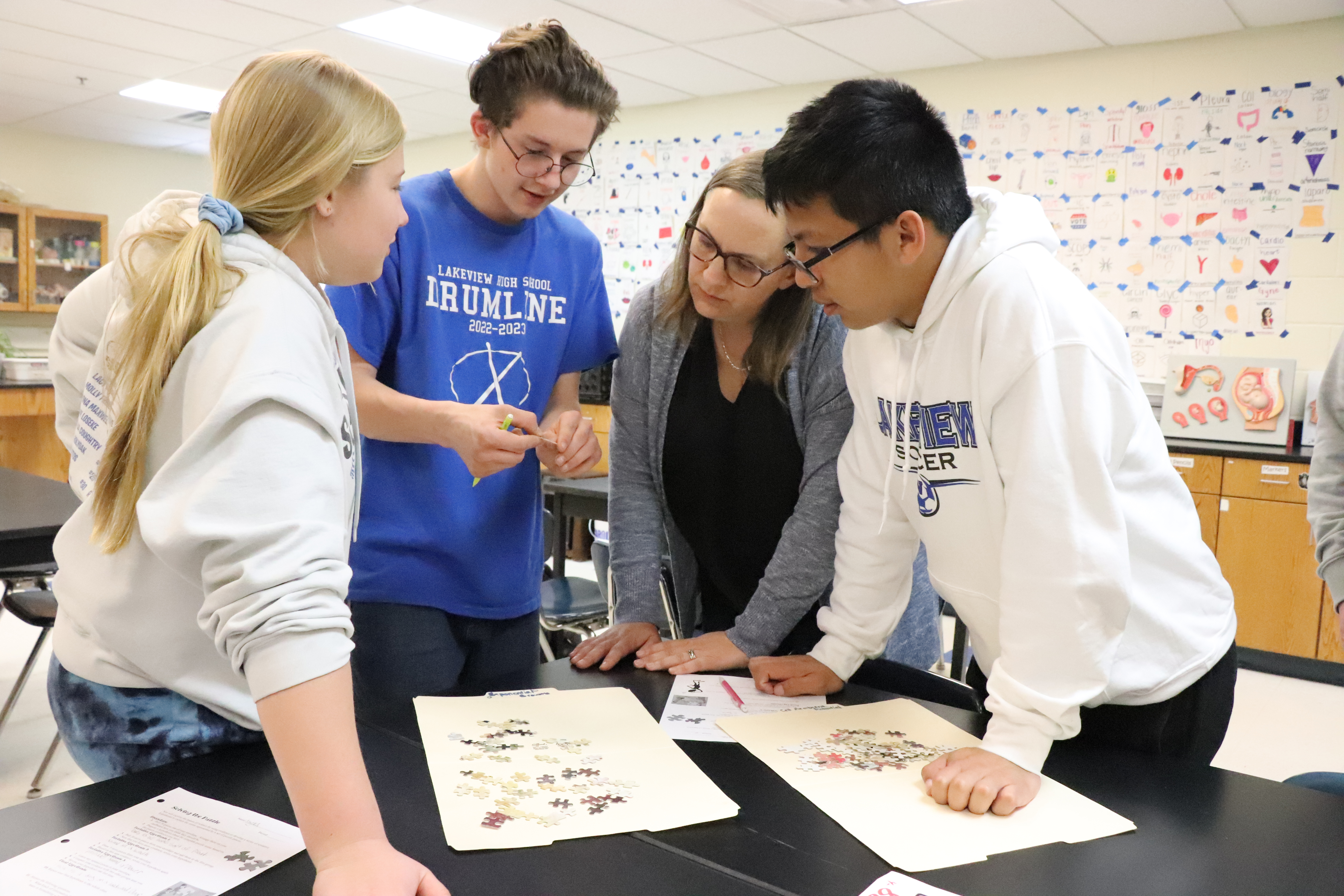 by Meghan Leadabrand, CSMCE project coordinator/admin tech

One year into her five-year participation in the University of Nebraska-Lincoln's science teacher leadership program as a Noyce Master Teaching Fellow, Nicole Miller, a science teacher at Lakeview Junior-Senior High School, has gained a deeper understanding of her own teaching practice and reinvigorated her professional network through intentional reflection and face-to-face learning with fellow teachers.

Miller is a member of the first cohort of the Master Teacher Fellows (MTF) program. The Robert Noyce Teacher Scholarship and MTF research project, "Meeting the Needs of Diverse Students through Science Teacher Leadership in Nebraska" is a three-college collaboration (CAS, CASNR, and CEHS) led by principal investigator Dr. Beth Lewis, professor of science education in the Department of Teaching, Learning, and Teacher Education. The project is funded by a $2.9 million, six-year National Science Foundation grant and will study science teacher leadership trajectories. One of the major goals of the NSF Noyce program and the UNL project is to retain excellent science teachers in the classroom and while they participate in the program, they also must continue teaching science full-time for five years.

The MTF program has supported Miller in developing her pedagogy and professional practice in the way that earning a master's in biology expanded her content knowledge. She said she now better understands and appreciates the history and foundations of science education and is more aware of systemic issues and policies that affect how teachers approach science education.

"I have always been reflective in my practice, and I've never been content to leave my lessons the same from year to year," Miller said, "but I feel like my reflections and lesson changes have become more intentional and informed by best practice."

Lewis added, "Nicole is a wonderful, mid-career, science teacher who Nebraska needs to not only retain in the classroom, but also develop as a teacher leader to work with other science teachers around the state to elevate science education. Nicole is a natural leader, and this program is providing her with the graduate level education, support, and collaborative network to advance her leadership. It will benefit her students, school district, and the state."

Getting to know other cohort members also has been a highlight of the Noyce MTF program for Miller. Though she found this summer's physics course challenging, she enjoyed the in-person learning time and meeting others who are passionate about improving their science teaching practices. "I have gained a shake-up and reinvigoration of my professional network that has helped me personally grow at the midpoint of my career," Miller said, "just when I was in danger of getting comfortable."

A Nebraska native—having grown up in Scottsbluff, Holdredge, and Lincoln—Miller has wanted to become a teacher since grade school. A lifelong nature lover and good science student, she also discovered a talent for helping friends with schoolwork when they were confused. Miller considered becoming an English teacher instead of a science teacher, but winning a senior science student award sealed her fate in science education.

Miller emphasized the impact of being selected for the science teacher leadership program had on her career path: "My story always reminds me of the influence we can have on our students' lives with praise and encouragement."

Miller earned a Bachelor of Science in secondary education with an endorsement in natural science from UNL and a Master of Science in Biology from the University of Nebraska at Kearney. She recalls being part of one of the first cohorts in Kearney's distance biology program and "we would get a box of VHS tapes mailed to us at the beginning of the semester for our lectures!" The distance learning program connected her with teachers and others in biological fields through discussion boards and other activities. "I experienced a huge amount of academic growth in that program," Miller said, "and appreciated the opportunity to work through a quality distance learning environment."

Miller taught 7th- through 12th-grade science at Palmer Public Schools before beginning at Lakeview, where she's taught for over 20 years. She now teaches sophomore Biology, Anatomy and Physiology, Dual Credit Biology, and co-teaches a Health Science Pathway class with a local nurse. While she still gets excited about science content, her favorite teaching moments involve seeing students grow. "What excites me most about teaching is when a student who used to be focused on memorizing facts learns how to reason and argue from evidence and then starts to ask questions and figure things out," Miller said.

Her goals for the future include learning how to better support the diverse instructional needs of individual students as well as addressing barriers to professional learning for teachers, such as time and travel to professional conferences. "I would like to work on developing mentoring and other support opportunities for new teachers and even experienced teachers who want to grow and get better," Miller said.

To date the project has recruited 20 UNL Noyce MTFs and will accept applications for up to 10 more MTFs by October 15, 2023. More information can be found at the project website: https://cehs.unl.edu/tlte/nsf-noyce-master-teaching-fellows-program/ and interested science teachers can contact Dr. Beth Lewis at elewis3@unl.edu.