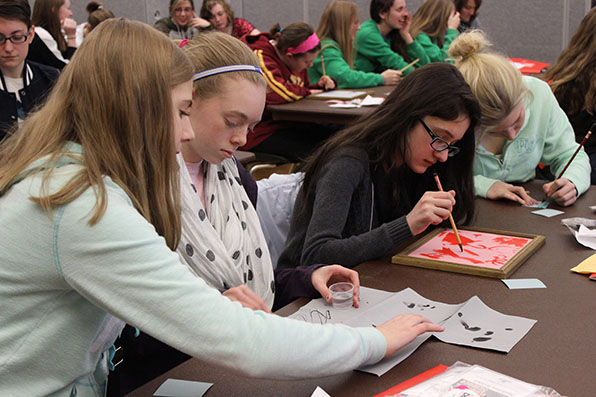 Nearly 100 high school girls will learn about science careers and meet women who excel in them while visiting the University of Nebraska-Lincoln for the 18th annual Women in Science Conference on Feb. 19-20.

Representing 27 high schools from across Nebraska and Kansas, participants will engage in workshops and discussions led by female chemists, computer scientists, engineers, geologists, biologists and others.

Workshop activities, which run from 9:30-10:30 a.m. and 12:30-1:30 p.m. Feb. 20 in the Nebraska Union, will include building comets from dry ice, competing in a robotic cup-stacking challenge, and constructing virus models.

From 2-5 p.m., students will visit eight laboratories in the George W. Beadle Center at 1901 Vine Street. More than 20 female scientists will lead students through demonstrations related to detecting mysterious microbes, extracting DNA, making protein crystals, and more.

"It is critical that young women are exposed to real science as a career option," said Rebecca Roston, an assistant professor of biochemistry who will lead a lab demonstration on screening plant species for tolerance to cold temperatures. "Science is an exciting and innovative set of disciplines that depends on attracting the best young minds toward its goal of bettering the human condition. We hope the conference will teach students that current experimental techniques are powerful and can provide answers that will benefit humanity."

Angela Pannier, UNL associate professor of biological systems engineering, will give the conference's keynote address. Pannier, who holds a courtesy appointment with the University of Nebraska Medical Center, will discuss her decision to pursue a career in science and share stories about developing techniques to engineer human tissue for transplantation.

The conference opens with a behind-the-scenes tour of CHI Health Saint Elizabeth on Feb. 19.

Media are welcome to attend conference events. For more information, click here.

The Women in Science Conference is sponsored by Nebraska's Experimental Program to Stimulate Competitive Research; the UNL Center for Science, Mathematics and Computer Education; UNL's departments of chemistry, computer science and engineering, Earth and atmospheric sciences, and physics and astronomy; UNL's School of Biological Sciences; and the Science Program of Excellence.