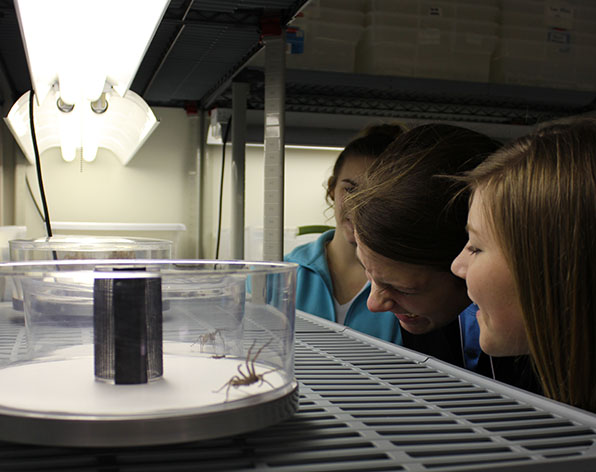 Take a look online at our newly-released 2016 schedule for the Nebraska Math and Science Summer Institutes (NMSSI), featuring a brand-new course from the School of Biological Sciences! More classes will be added over the coming weeks, and some dates may change, but use this schedule to start planning your calendar this summer.

We are pleased to announce a brand-new course, BIOS 897 (section 592) – Ecology and Evolution of Arachnids for K-12 Educators, which will be taught by Professor Eileen Hebets from UNL's School of Biological Sciences. This course will be held from June 20-24 in Manter Hall on the UNL campus, and is for middle school and high school teachers interested in learning how arachnids and their arthropod relatives can be integrated into K-12 classrooms for teaching a breadth of science material including: organismal structure and function; ecosystem interactions and dynamics; inheritance and trait variation; and evolution and biodiversity. The course will use inquiry-based learning, hands on science experiments, individual research projects, and group discussions to learn about the anatomy, physiology, behavior, ecology, and evolution of living arachnid groups.

We are offering more than 30 courses designed with K-12 math and science teachers in mind. Formal UNL registration in MyRED begins March 7. Please note that we are awaiting approval of the 20 percent tuition discount from the UNL Chancellor's office.

In addition to many courses offered in Lincoln, this summer we are partnering with Educational Service Units and local school districts to offer courses for mathematics teachers in these Nebraska locations:

Ainsworth, Auburn, Grand Island, Hastings, Holdrege, La Vista, North Platte, Omaha, Scottsbluff and South Sioux City.

Faculty from UNL, UNO and UNK will join the pool of instructors, as will many master teachers drawn from the K-12 teacher ranks.

For all on-site NMSSI courses, we anticipate that all current Nebraska teachers will automatically qualify for a Tuition Fellowship, which amounts to 20 percent of in-state, graduate tuition. Additionally, Nebraska K-12 teachers will be able to apply for a supplemental fellowship to further defray tuition costs for an NMSSI course. See our website for details.

In order to broaden our ability to serve teachers from across the state, we will also offer three classes online in Summer 2016: two courses in mathematics and one in mathematics pedagogy. Unfortunately, the 20 percent tuition reduction does not (and will not) apply to online courses. However, K-12 Nebraska teachers who take one of these online courses may apply for a supplemental fellowship to help defray tuition costs for these online courses.

Check out the NMSSI website at http://go.unl.edu/nmssi for updates on course offerings, information about registration, and information about fellowship applications.