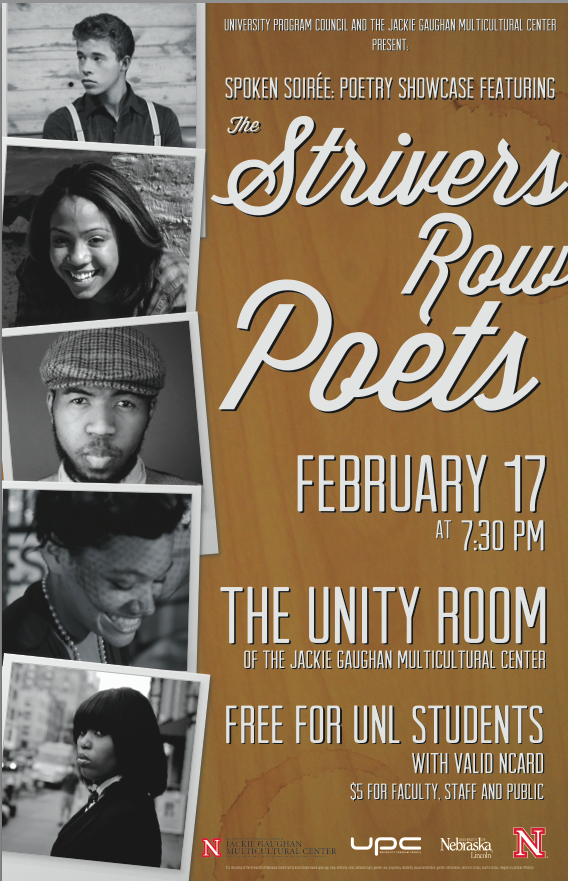 It is often said that young people don't read anymore, but they will listen. At 7:30 p.m. Feb. 17, the University Program Council (UPC) and the Jackie Gaughan Multicultural Center host "Spoken Soirée: Poetry Showcase featuring the Strivers Row Poets" in the Unity Room of the Jackie Gaughan Multicultural Center.

The Spoken Soirée is free to UNL students with a valid NCard and $5 for faculty, staff, and public.

The Strivers Row Poets are a group of young and vibrant individuals from the Northeast. In addition to being poets and artists, the members of Strivers Row are also scholars who have graduated from prestigious universities such as Yale and Princeton. Several of the poets are currently earning their PhDs in English or social issues.

These spoken word artists will make a big impression on their audience, with experience performing at the Sundance Film Festival and The White House. The performers have toured the country bringing stories of racial discrimination, homophobia, and poverty in a hard-hitting poetic style. The poets speak individually and as a group, using conventional and unconventional performance styles that incorporate drama and music.

The University Program Council (UPC) is a student organization that provides diverse, educational and entertaining programs and events to enhance the UNL community.

The Jackie Gaughan Multicultural Center is the nation's largest multicultural center attached to a student union. The Center provides a home away from home for underrepresented students while welcoming all UNL students, faculty, staff, alumni, and guests.