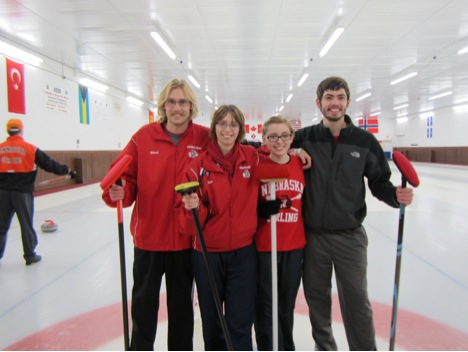 The UNL Curling Team won a silver medal in the Regional College Curling Championships, March 10 –11, 2012 played at Kettle Moraine Curling Club in Hartland, Wisconsin. Twenty-four universities and colleges competed in the event.

The UNL team was skipped by Michael McEniry, a senior engineering major from Papillion; Rachel Rixen, a sophomore from Bismarck, ND served as Vice-Skip. Morgan Rose from Broken Bow was in the second position and Kit Connell of Papillion served as lead.

McEniry's team competed in Division III against the University of Tennessee, University of Washington and Carroll University of Wisconsin.

UNL also fielded a second team consisting of Skip: Christopher Turley (Omaha), Vice-Skip: John Densberger (California), Second: Cameron Binder (Wisconsin) and Lead: Katherine Mitenko (Omaha). Other universities competing in the tournament included the University of Wisconsin, University of Minnesota and Northwestern University.

About UNL Sport Clubs
UNL Sport Clubs are recognized student organizations at the University of Nebraska–Lincoln and comprised of individuals who have a desire to compete or participate in a sport throughout their college career, and exist to develop students' skill, dedication, and interest for specific sports. Each club's level of activity is unique and ranges from regional to national intercollegiate competition. Sport clubs continue to grow primarily due to strong student leadership. There are currently 32 active sport clubs at the University managed by UNL Campus Recreation.