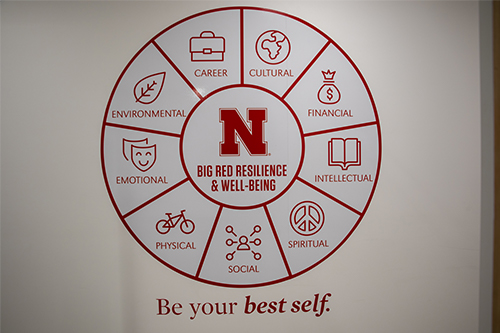 A new series seeking to introduce and remind students of resources for their well-being, "How the Health Are Ya?" will spotlight one of the nine dimensions of well-being at booths around campus. Check out the schedule below to watch for resources on various aspects of well-being and plan to stop by to spin the prize wheel.

FINANCIAL WELL-BEING
October 6 | 12-1 p.m. | Nebraska East Union
Learn about resources to help stay on top of your financial well-being. You can get connected with a money coach or the Husker Pantry.

CULTURAL WELL-BEING
October 13 | 12-1 p.m. | Nebraska Union
See what opportunities the Hixson-Lied provides to enhance cultural and artistic engagement on campus.

SOCIAL WELL-BEING
October 27 | 12-1 p.m. | Nebraska East Union
The Collegiate Recovery Community (CRC) will offer safety tips surrounding alcohol and drug use, particularly related to Halloween. Representatives from Campus NightLife and the Office of Fraternity and Sorority Life also will be present to discuss upcoming activities and events.

CAREER WELL-BEING
November 10 | 12-1 p.m. | Nebraska Union
Get tips for productivity in classes and career planning. Learn how you can further advance your career goals in partnership with Career Services.

SPIRITUAL WELL-BEING
November 23 | 12-1 p.m. | Nebraska Union
During this season of thankfulness, learn more about how to reinforce personal and relational values through engagement with gratitude graffiti and connecting with campus resources related to well-being.

SPIRITUAL WELL-BEING
December 8 | 12-1 p.m. | Nebraska Union
Explore world religions with a panel of representatives from various campus ministries.

Want more? Students can discuss any of the aspects of well-being with a well-being coach. Learn more at https://go.unl.edu/well-being.