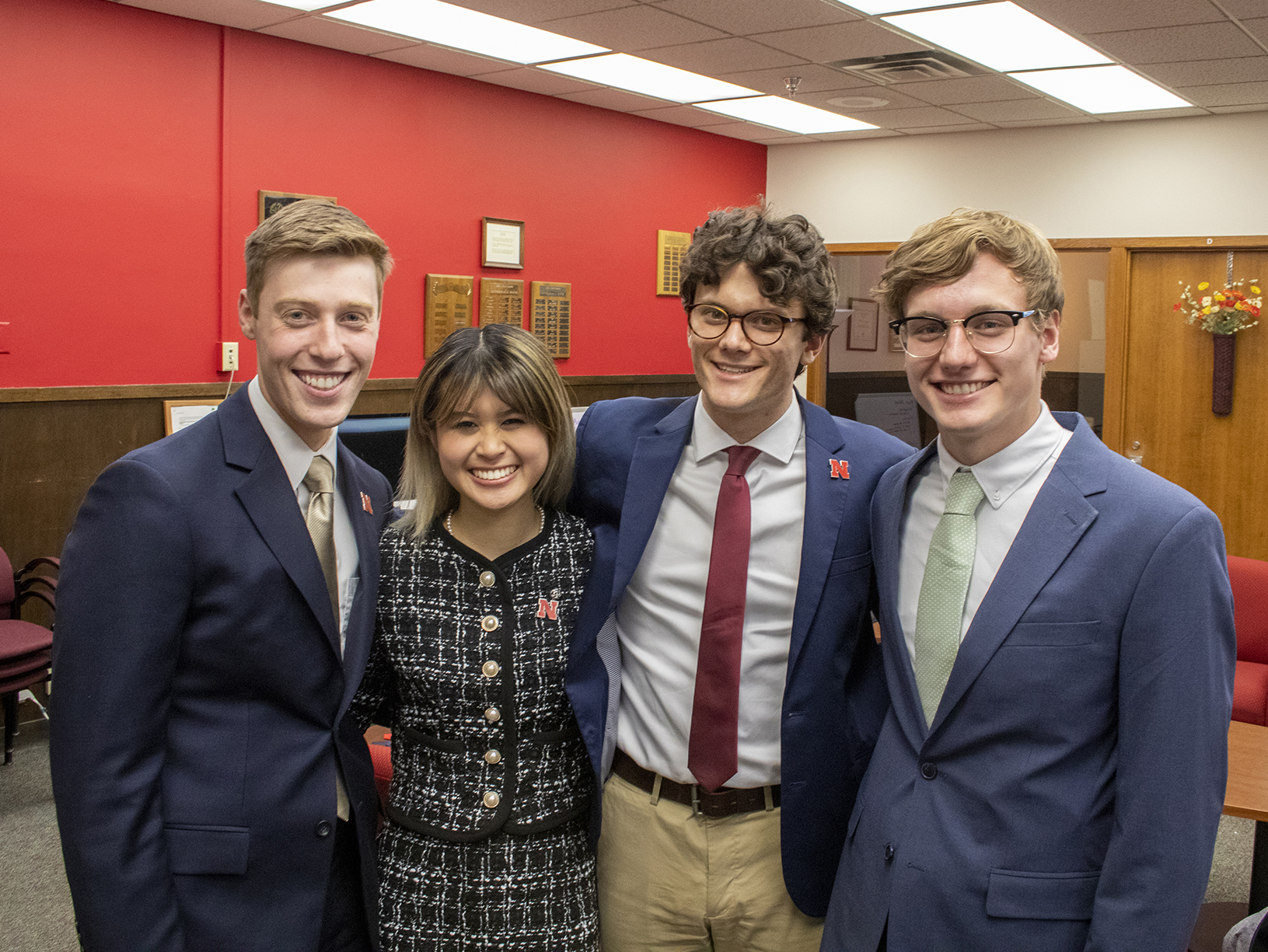 The incoming ASUN executive team has a variety of interests, experiences and goals for the coming term. Jake Drake will serve as ASUN President, Christine Trinh will serve as Internal Vice President, and Alec Miller will serve as External Vice President. All newly-elected ASUN members will officially enter their roles during ASUN induction, which takes place on March 30.

Jake Drake - President
Drake is a junior political science major and business administration minor from small-town Murray, Nebraska. He is a member of Alpha Kappa Psi business fraternity, an OASIS Scholar and a former Resident Assistant. Before being elected as ASUN President, Drake served as a Freshman Campus Leadership Associate, Senator, Co-Chair of the Campus Life and Safety Committee and Homecoming Coordinator. When he isn't busy on campus, Drake loves to spend time with his family- especially his nephew, Aiden. You can also catch him playing Pokémon or spending time at the Campus Rec Center.

Drake chose to run for ASUN President because he wanted to provide accountable leadership within the organization and student-focused advocacy for the university.

"As a first-generation college student, I understand how crucial the student experience is in shaping Nebraska's future leaders," said Drake.

Drake has set goals to create more student advocacy positions within ASUN and local government, to bolster the organization's relationships with other student organizations and to advocate for more equitable policies.


Christine Trinh - Internal Vice President
Christine Trinh is a junior economics and political science double major from Lincoln. Trinh's time in ASUN began during her freshman year when she was selected to be in the Freshman Campus Leaders Associates. She then became FCLA Co-director during sophomore year. Junior year, she was a College of Arts and Sciences senator and internally elected as the Speaker of the Senate. Trinh is also a member of Gamma Phi Beta sorority and the Innocents Society. If she's not in the ASUN office, you can find her at The Mill at Telegraph studying for the LSATs or planning her stand-up comedy debut.

"As IVP, I am excited to expand ASUN to all of campus. To have a well-functioning student government, the student body must understand who is representing them," said Trinh, "Reaching a greater audience is my primary goal."

Trinh also is pursuing projects related to financial literacy on campus and is excited to implement aids to relieve financial burdens for students. She looks forward to helping build community on campus.


Alec Miller - External Vice President
Alec Miller is a junior psychology and Spanish major from Lincoln. His past ASUN roles included serving on the Freshman Campus Leadership Associates and two terms as the Communications Committee Chair. Outside of ASUN, Miller is a research assistant in the Trauma, Violence, and Abuse Lab and the Clinical Neuroscience and Neuropsychology Lab.

His goal for the next term is to increase engagement with students outside ASUN. Miller will serve on a committee about the future of Neihardt Hall and is looking forward to conversations with different entities on campus who are interested in developing inclusive spaces and greater accessibility to resources for students. Additionally, he will serve on the Parking Advisory Committee where he plans to advocate for affordable parking passes. Miller also plans to serve on the UNLPD Advisory Committee, in which he hopes to advocate for increased transparency and improving relationships between UNLPD and the campus at large.

Outside of school, Miller loves reading short stories and spending time outside with his friends.


To keep up-to-date with ASUN projects and events, follow the organization on Instagram and Twitter at @ASUN_UNL.