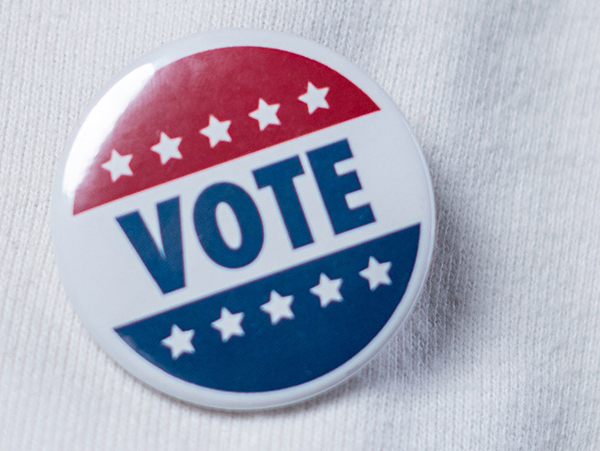 The Huskers Vote Coalition (HVC) has tools to ensure Huskers are prepared to cast a ballot in the upcoming general election – regardless of the location/state in which they plan to cast their ballot – and to register them to be voters if they are not currently signed up.

VOTER REGISTRATION DAY, SEPT. 20
Register to vote, check your voter registration status, sign up for vote-by-mail, and learn your polling place for the upcoming Nov. 8 general election. Students can register to vote in Nebraska or their home state (as long as they meet the registration deadlines and requirements).

From 11 a.m. to 1 p.m. students can visit one of three City Campus locations:
• Nebraska Union Memorial Plaza (look for the red tent)
• Willa Cather Dining Complex, 1st Floor
• Harper Dining Center, at 1st Floor entrance

On East Campus, students can visit a table outside the Nebraska East Union's Dining Center from 4 p.m. to 6 p.m. for all the same purposes.

Huskers can also register to vote through this website.

Voter registration deadline and important dates in the state of Nebraska:

• October 11, First day to vote early in person
• October 21, Deadline to register online to vote
• October 28, Deadline to register in person to vote
• November 8, Polls are open for voting from 8 a.m. to 8 p.m.

In 2020, we saw 92% of students register to vote which earned us the #1 ranking in the Big Ten. Huskers can review the full-report data from 2020 including a breakdown by colleges and majors.


___________________


NIGHT OF LISTENING: VOTING, Sept. 22
UNL students are invited to attend and participate in "Night of Listening" a Lincoln Community Town Hall at 7 p.m. Sept. 22 in the Nebraska Union Swanson Auditorium and via Facebook Live.

Attendees have the opportunity to dialogue the steps it takes to register to vote and learn about the early voting process for the upcoming Nebraska 2022 Elections with nonpartisan organizations, as well as their fellow students, to find common ground and be involved in the community, state and nation.

Speakers in attendance will be:

• Becki Gaston-Wise, Lancaster County Chief Deputy Election Commissioner
• Guadalupe Esquivel, Nebraska Civic Engagement Table
• Ken Bartling, Husker Vote Coalition

Each organization's representative will speak for a short time before opening the floor to students for questions and to share their stories.

Huskers can submit questions in advance for the speakers by clicking here.


___________________


For more information contact Andrew Brown within Student Leadership, Involvement, & Community Engagement at andrew.brown@unl.edu or call at 402-472-8721.


More details at: https://involved.unl.edu/husker-vote-coalition