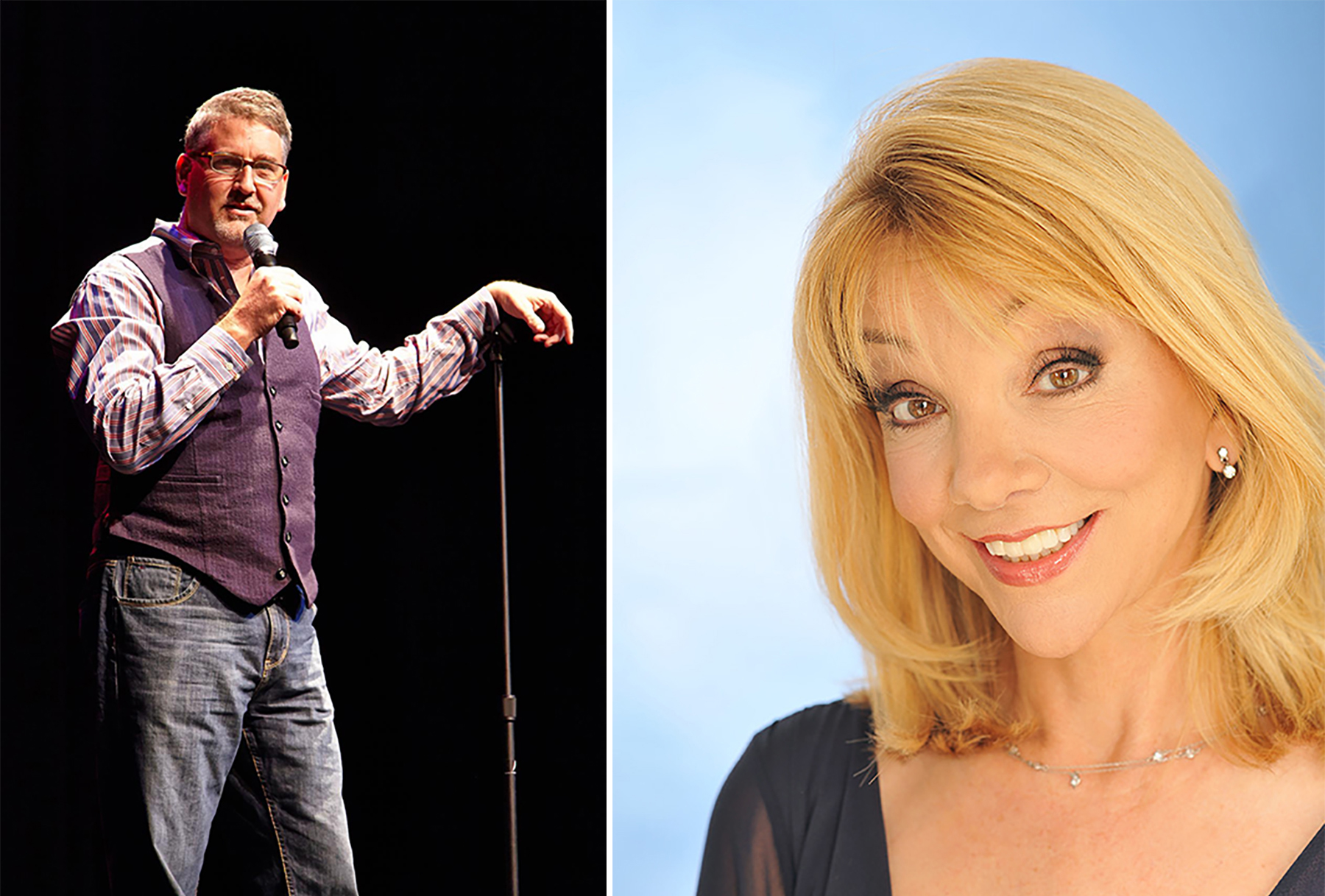 The Johnny Carson School of Theatre and Film's Carson Lecture Series returns Sunday, Oct. 30 at 3:30 p.m. in the Swanson Auditorium of the Nebraska Union at 14th and R sts. on the University of Nebraska–Lincoln city campus.

The biennial Carson Lecture Series was created to celebrate the contributions of entertainment icon and UNL alumnus Johnny Carson. The program is free and open to the public, but free tickets must be reserved due to space limitations. Visit https://go.unl.edu/carsonlecture for tickets.

This year's program features two returning lecturers. Pat Hazell, comedian and former "Seinfeld" writer, will host. He will be joined by actress Teresa Ganzel, a recurring cast member of "The Tonight Show" who starred as the Tea Time Lady and other characters in many popular skits on the show as part of the Mighty Carson Art Players. Hazell and Ganzel will share clips highlighting Carson's talent and stories from their time on the show.

The UNL Jazz Orchestra, under the direction of Glenn Korff School of Music Associate Professor of Composition Greg Simon, will perform music from "The Tonight Show," as well as other selections.

In addition, "Johnny Carson: Student of Comedy" will also be shown. The short film, produced by two students from the Johnny Carson School of Theatre and Film and two students from the College of Journalism and Mass Communications, with support from Carson Entertainment Group President Jeff Sotzing, was created for and shown originally at the 2007 dedication of the Johnny Carson School of Theatre and Film.

Hazell said audiences should expect a different kind of Carson Lecture Series this year.

"This year's event will be more entertainment driven," Hazell said. "Audiences should be ready for an amazing amount of music from The Tonight Show era, including the theme song, played by the UNL Jazz Orchestra. The Carson Entertainment Group is providing us with an amazing series of clip packages that cover all the various skills that Johnny had, including monologue skills, reacting to audience members, animal guests, sketch players and things. Teresa Ganzel, who was one of the last of the Mighty Carson Art Players, will be joining us live to talk about the sketch process. I'm going to do a brief monologue just because it was the thing I was invited as a standup comic to do. It's going to be more of a show than previous years."

Christina Kirk, director of the Johnny Carson School of Theatre and Film and executive director of the Nebraska Repertory Theatre, is eager to host the series again.

"We are so thrilled for the return of the Carson Lecture Series following the pandemic," she said. "We look forward to a fun and engaging afternoon celebrating the legacy of Johnny Carson with Pat Hazell and Teresa Ganzel. We also look forward to having our students and the Lincoln community learn about their experiences on the show and how they were influenced by working with Johnny Carson."

For Omaha native Hazell, appearing on "The Tonight Show Starring Johnny Carson" was a special experience. He appeared only once with Carson, but subsequently appeared six additional times when Jay Leno hosted.

"I was on near the end of Johnny's reign, and it was something that, as a kid who grew up in Omaha, this was like an Olympic gold medal for a comic to be invited onto Johnny's show. I was very lucky to have been tapped before he went off the air."

Some other segments that night ran late, so Hazell didn't get invited over to Carson's desk after his set, but he did share some special time with Carson in his office before the show.

"Johnny had an affection for magic, and I grew up doing magic tricks and card tricks," Hazell said. "So I was called into his office before the show, and I got to chat with him, and he showed me a coin trick. It was like being in another magic nerd's bedroom waiting for the show to go on."

Being on Carson's "Tonight Show" opened doors for comedians like Hazell.

"It was a level up from 'as seen on TV.' As seen on the Johnny Carson show and to have Johnny's okay symbol for a comedian opened the doors to clubs and to corporate events and to theatres and touring opportunities and Vegas, and so forth," he said. "He was very, very generous with young comics having their debut, and he would go out of his way to set the audience up for it. Walking through that curtain was like a portal to the next portion of your life as a comedian because from then on, you are a Tonight Show-approved comedian."

Hazell said students at UNL can learn a lot from Carson.

"Partly in his generosity and philanthropic gift giving, he created the theatre and the emerging media arts center and state-of-the-art access to all kinds of things," Hazell said. "You don't have to be in Hollywood or New York to make it. All you have to do is learn your craft, and Johnny learned his craft there. Everybody is lucky that he lived in the area and wanted so generously to give back to what gave him a lot."

Hazell and Ganzel both recently appeared at the opening of the new "Johnny Carson: The Immersive Experience" exhibit at the National Comedy Center in Jamestown, New York.

"It was an extraordinary reunion," Hazell said. "We were saluting Johnny's variety acts because he really did love those ancillary arts of magic and juggling and animal training, and all those kinds of things. I have to say, emotionally, the most impactful artifact was the rainbow curtain that was hanging there that was so iconic and that Johnny walked out of all those nights and did his monologue in front of that."

Hazell said Carson's comedy resonates still today.

"What I did learn when I was in New York and we played some of the clips is that Johnny's comedy and warmth resonated 30-40 years later," he said. "Some of these clips were at least that old, and he was getting howls and laughs as good as any of the comics on the show. That was a real a-ha for me. He did this every night. He's the one to study. Other people have some skills. But he had them all."

Ganzel was on the show during the last 10 years of Carson's tenure.

"I loved the fact that he was so enthusiastic and that he acted like he was doing these sketches for the first time," she said. "When I started doing the show, it was already 20 years that he'd been doing it. I did the show for the last 10 of the 30 years, and he still loved it so much that it really felt he was a kid doing it for the first time. It was so delightful to see that kind of enthusiasm and love of performing."

Ganzel said they took the sketches very seriously.

"I got my script a week before, and I memorized the lines, but Johnny always re-wrote the lines and tightened it up to make sure that everything was up to snuff during rehearsal, so he was constantly rewriting and polishing the scripts," she said. "The end result was often silliness and laughter, but we really took them more seriously than you would imagine. It was a blast. I truly loved it."

She said students can learn from Carson to love what they do.

"Johnny thoroughly loved what he did. He loved interviewing people. He did over 20,000 interviews, and you wouldn't have guessed it, because he loved doing it so much," she said. "Whether it was the potato chip lady or Joan Embry with animals or a movie star, it didn't matter. He loved all of it, including his sketches and all the characters that he created. And he did that for 30 years. Most people don't love their job for 30 years, but he did. That is what made him so special, and this is the most valuable lesson I learned from him. Do what you love, and you will never work a day in your life."

Ganzel continues to stay busy as an actress.

"I stay busy working on small independent films and appearing in guest star roles on sitcoms such as Grandma Gladys, the bingo playing champion on 'Side Hustle' and Georgia, the wealthy football widow on 'Home Economics,'" she said. "Also, I was recently cast playing a lunch lady complete with the hairnet on a sitcom so as silly as that sounds, I really love the fact that careers just keep evolving."

She is looking forward to returning for this year's Carson Lecture Series event.

"For some people, it will be a wonderfully nostalgic event, and for others, it will be a fun, new, learning experience," she said. "For me, it's so special to know that Johnny is still so loved and treasured and that more and more people are still learning about him and his work."

For more on the Carson Lecture, visit https://go.unl.edu/vjdt.