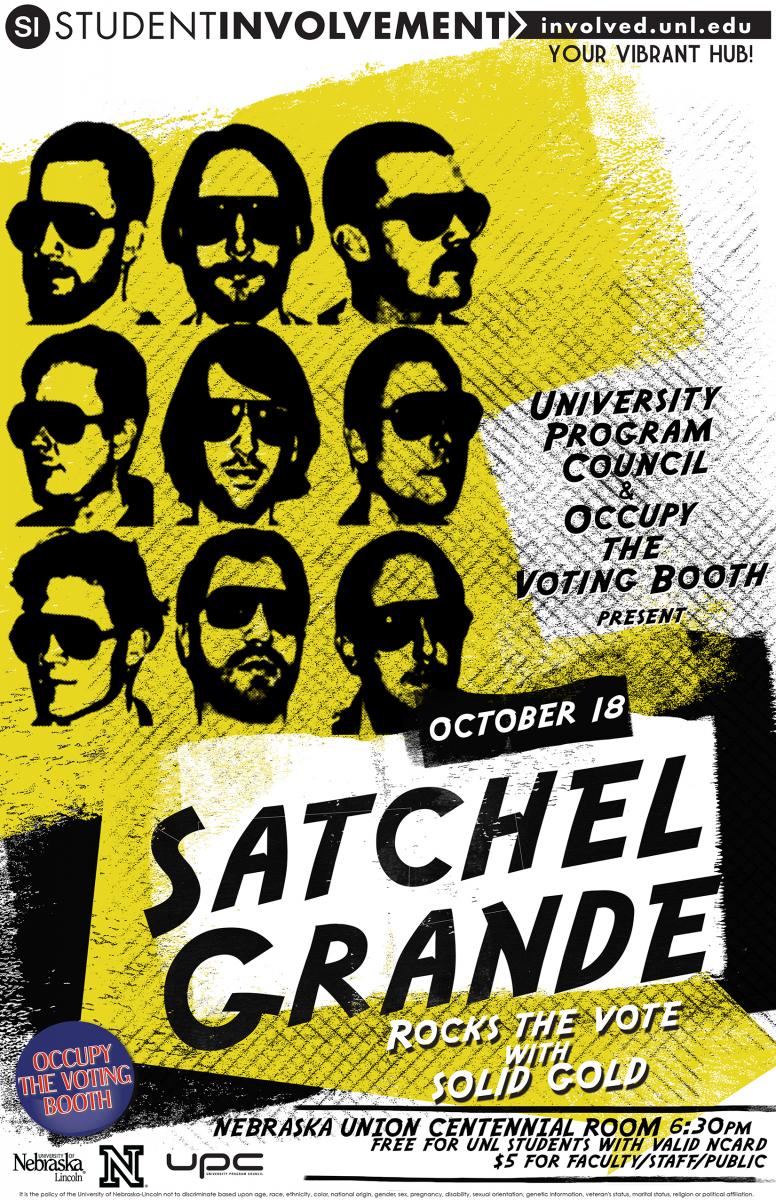 In 2008, 48 percent of voters between the age of 18 and 24 voted, according to the U.S. Census Bureau. By partnering with Occupy the Voting Booth, the University Program Council (UPC) aims to increase this percentage with Satchel Grande Rocks the Vote. The event will be held on Thursday, October 18, 2012 at 6:30pm in the Nebraska Union Centennial Room. Admission to the event is FREE for UNL students and $5 for faculty, staff and public.
Lincoln natives Solid Gold will start the show at 6:30pm. After their performance, the event will sponsor former Nebraska governor and current senatorial candidate Bob Kerrey. A representative from State Senator Deb Fischer's campaign will take the stage immediately after.
Satchel Grande will be performing at 8pm. Satchel is a 10-piece, 70s-inspired funk band. Proudly hailing from Omaha, the gentlemen of Satchel own the stage on which they play. Their style ranges from Chromeo-inspired electronic to classic soul and pop, all achieved with a unique combination of guitars, keyboards, bass and percussion.
Satchel Grande is a fixture around the Omaha area. They frequently open for touring indie and alternative bands and are a staple at outdoor festivals. Songs from "Dial 'M' for Mustache" and "Dancefloor Protest Music" like "Workin' Title" and "Put Up a Fuss" will have you tapping your toes and shaking your booty.
The University Program Council (UPC) is a student organization that provides diverse, educational and entertaining programs and events to enhance the UNL community.
Occupy the Voting Booth is a part of UNL's Center for Civil Engagement that strives to register, educate and encourage voters on campus.
More details at: http://go.unl.edu/34c