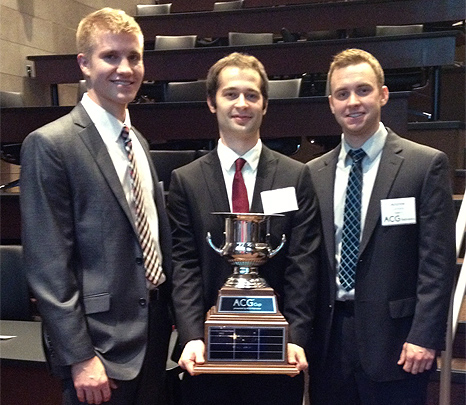 MBA students from the College of Business Administration took home the first-place trophy in the second annual ACG Nebraska Cup competition in late February.

The ACG Cup is an intercollegiate case study competition designed to give students insights into mergers and acquisitions, investment banking and private equity.

Tyler Cyboron from Ravenna, Andrew Lempka from Omaha, and Jared Thomas from Columbus made up the winning team. Ben Herbers, a student in the joint MBA/Juris doctor program from Lincoln, helped the team prepare but was unable to participate in the competition.

Thomas said he believes the competition provided his team with great experience outside the classroom.

"The competition gave our team as close to a real-world experience as possible," Thomas said. "Presenting to some of the top business professionals in Omaha was tremendously worthwhile and I would highly recommend it to fellow business students."

ACG Cup team coach Richard DeFusco, UNL professor of finance, said he was impressed with his team's performance.

"Our team had a nice presentation prepared and did a good job answering some tough questions from the judges," DeFusco said. "We will eventually receive the traveling trophy after it is engraved. As this year's winner we will get to host the final round next year."

This year's competition was at the University of Nebraska at Omaha where students from UNL, UNO, Bellevue University and Creighton University competed.

The UNL team, which was awarded $4,000 for winning the competition, will now compete in the regional competition in St. Louis in May.