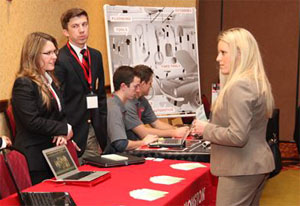 The Center for Entrepreneurship in the UNL College of Business Administration hosted EntrepreneuringDays@UNL March 11-13 at the Embassy Suites in Lincoln, Neb. The event included two student competitions – the UNL New Venture Competition open to University of Nebraska students and the UNL Global New Venture Competition open to students from around the world.

The UNL New Venture Competition provided University of Nebraska-Lincoln students the opportunity to compete in a business planning competition to get feedback and financing for their idea. The grand prize of $50,000 must be used to start the business pitched in the competition. The grand prize winning team was entered into the UNL Global New Venture Competition. The UNL winners were:

•Grand Prize and 1st Undergraduate – Pickit, James Verhoeff, Cortland, Neb., senior business administration major, and Zach Christensen, Elkhorn, Neb., junior biochemistry major. Pickit is a mobile app which combines discounts at local merchants and donations to community organizations. Downloading the free app and creating an account gets the user access to deals to local merchants redeemed by scanning the Pickit card at the merchant. Pickit charges the merchant a commission with each swipe, half of which will go to a nonprofit organization chosen by the consumer.

•2nd Undergraduate – Synerscan Technologies, Katie Hottovy, Lincoln, Neb., senior art history and criticism major, and Brett Byman, Omaha, Neb., fall 2012 business administration graduate. SynerScan tracks hand-washing compliance and provides real-time operational management for hospitals. In addition, leveraging the collected data from nursing rounds, the system sends hourly updates to friends and family of patients.

•3rd Undergraduate – Eric Hess, Lincoln, Neb., senior accounting major, and Nick Graef, Hickman, Neb., senior computer science major and business minor. This app allows golf courses to offer promotions and specials to help fill empty tee times, improving earnings and creating customer loyalty. The system also gives golfers a record of their round and lets them comment using the mobile app and an accessible website. GPS functionality permits golfers to see distances to greens as well as hazards throughout the course. For a small fee, the golfer can also review information about his or her round, including where each shot landed.

•1st Graduate – Elegan Instruments, Thomas Frederick, Omaha, Neb., mechanical engineering and applied mechanics, and Anna Brynskikh, Omaha, Neb., UNMC. A specialized brush system was developed to address the problems of using art brushes on pathology samples. Several iterations of the tool have been developed and tested at the University of Nebraska Medical Center.

•2nd Graduate – Aerial AgVantage, Laura Stevens, Falls City, Neb., agronomy. This business offers detailed agricultural crop scouting throughout the season with an unmanned aerial vehicle equipped with cameras in the visible and near-infrared spectrums. Aerial images can also be fused with yield and soil test data to create variable rate maps for inputs such as fertilizer, herbicides and seed, allowing farmers to better manage their fields.

•3rd Graduate – Kamterer, Alex Kohel, Lincoln, Neb., agronomy. A turf-grass repair kit that can quickly fix dead spots in lawns, athletic fields and golf courses is the emphasis of this business. The enhanced turf-grass seed will germinate rapidly, uniformly and under stressed conditions. Kamterter Products L.L.C. is an established seed-enhancement company. This product has been researched and statistically analyzed for the past three years at UNL.

The UNL Global New Venture competition allowed students from around the world to compete in a business planning competition to get feedback and funding. The winner of the graduate competition has an automatic entry into the 2013 Global Venture Labs Investment Competition in Austin, Texas. Winners for this competition were:

•1st Graduate – HomeDX, University of Arkansas, $7,000. This company focuses on providing rapid over-the-counter in-vitro diagnostics tests for food intolerances, sexually transmitted diseases and other infectious diseases directly to the consumer via retail channels.

•2nd Graduate – Vacation Races, Brigham Young University, $3,000. This company markets and produces running events in vacation destinations. The company's first series will be half marathons staged at the nation's most popular national parks.

•3rd Graduate – QuorumBuy, University of Texas, $2,000. This company provides an online platform that combines individual purchases by small and medium-sized businesses into a single large purchase, which lets them share volume discounts they couldn't get otherwise.

•1st Undergraduate – Owlet Baby Monitors, Brigham Young University, $4,000. The Owlet Baby Monitor is a wireless pulse oximeter that informs parents of their child's breathing and heart rate in real time from a relay device or their smart phone.

•2nd Undergraduate – Inviroment LLC, Brigham Young University, $2,000. Inviroment claims its patent-pending PlasTek technology is an environmentally safe, chemical solution from natural sources that decomposes plastics in landfills in a matter of months and increases harvesting of methane.

•3rd Undergraduate – Imalysis, University of Houston, $1,000. The company's software, Melysis, allows individuals to upload a photo of a suspicious mole or lesion and receive instant feedback on the statistical chances of it containing melanoma.

The Center for Entrepreneurship is focused on helping students learn and practice the art and science of growth. The Center's mission is to inspire and empower UNL students to become "Startup People", educating them to be active in creating their own future.

The College of Business Administration at the University of Nebraska¬-Lincoln serves more than 3,500 students by providing undergraduate and master's programs, and is the only Ph.D. granting business college in Nebraska. Established in 1913, the college was a founding member of and accredited by the AACSB.

More details at: http://go.unl.edu/zxg