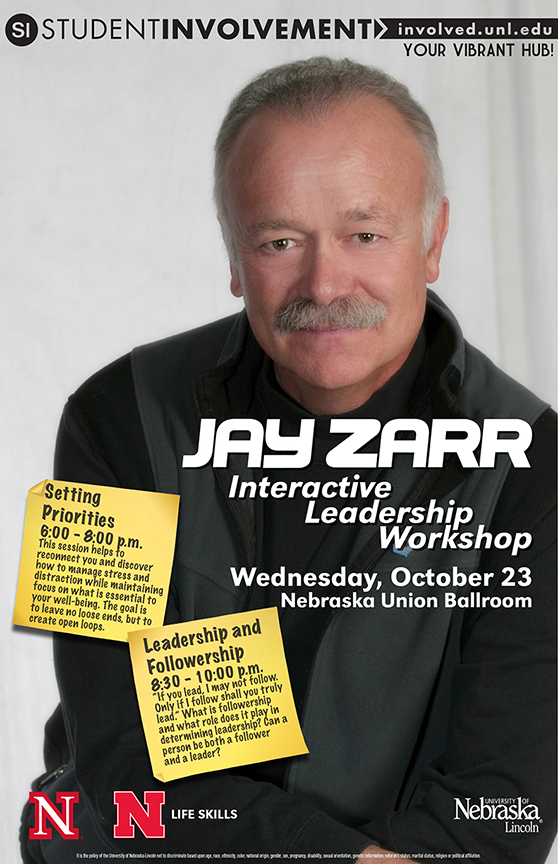 Join Student Involvement along with the Life Skills department to welcome High Impact Training Interactive Speaker Jay Zarr on Wednesday, October 23, 2013 for one or both of his presentations in the Nebraska Union Ballroom at the University of Nebraska-Lincoln. Both interactive presentations will be free to UNL students, faculty and staff.

Jay has over 30 years of experience in combining natural settings and adventure-based experiences to teach, leadership, teamwork and self-esteem. He infuses trust among group members and has them involved, interested and motivated. He is listed three times in the Who's Who in American Educators, and received his master's of science degree in Experiential Education from Minnesota State University - Mankato. Jay feels that he is making a positive difference in the world.

Jay's topics on Wednesday will be:

Setting Priorities from 6 to 8p.m. asks, "In an environment that demands instant gratification, what takes priority?" Reacquaint yourself with YOUR priorities. Review how you set and undertake your priorities, and how you manage (or mismanage) your time. This session helps to reconnect you to what is important. Discover how to manage stress and distraction while maintaining focus on what is essential to your well-being. The goal is to leave no loose ends, but to create open loops.

Following Setting Priorities, Jay will tackle Leadership and Followership from 8:30 to 10p.m. "If you lead, I may not follow. Only if I follow shall you truly lead." What is followership and what role does it play in determining leadership? Can a person be both a follower and a leader? This session challenges negative stereotypes of followers, and provides a formidable vision of followers and the leaders they empower.