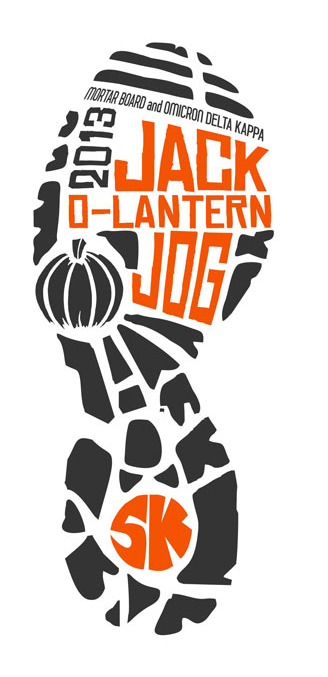 Mortar Board and Omicron Delta Kappa (ODK) at the University of Nebraska-Lincoln are hosting a fun run on Wednesday night, October 30th at 8PM to benefit Team Jack.
Team Jack is named for Jack Hoffman, a 6-year old from Atkinson, Nebraska (pop. 1,100). Fatefully, on April 22, 2011, Jack was life flighted to Children's Hospital Omaha after suffering a life threatening seizure. A subsequent MRI showed a mass in the left temporal lobe of his brain.

Before a second life-threatening brain surgery, the family reached out to the University of Nebraska to see if Jack could meet Rex Burkhead before his surgery. As a result, the University extended an invitation to Jack and family to make the 4 hour drive to the Stadium. During this September 2011 visit, Rex spent several hours with Jack and the family—giving them a tour, having lunch together, and just hanging out. This one experience evolved into a remarkable friendship between a 6-year old boy and a major college football player. During the 2011 campaign, Rex wore a wristband that said: "Team Jack-Pray."

The chemotherapy regimen that Jack is taking is a 25-year old treatment, as medical advancements in this therapy have languished due to a severe lack of funding.

Team Jack is determined to help find an effective cure for pediatric brain cancer. They are partnered with CureSearch for Children's Cancer, a national non-profit foundation that funds children's cancer research. All money raised for this fund will support pediatric brain cancer research. In 2012, CureSearch expects to raise more than $10 million through philanthropic contributions.

Event Date/Time
Wednesday, October 30, 2013. Check-in/Registration at 7PM, run at 8PM.

Event Distance
5K (3.1 miles)

Location
Entirely on City Campus – Start/Finish on Selleck Green space

Registration Information
All registrations made by October 14th at 11:59PM will be guaranteed a t-shirt. All others will receive shirts while supplies last.

$10: Online student registration

$15: Online non-student registration

$15: Day of registration for all runners

Register at https://secure.getmeregistered.com/JackOLanternJog

The Team Jack Foundation is also offering prizes if runners choose to fundraise for the event. Runners can make a fundraising page at http://www.teamjackfoundation.org/jack-o-lantern-5-k-jog-oct.
The first place prize is 2 free tickets to Jay Z's Magna Carta Tour in Lincoln on December 1st. 2nd place will receive a gift card to Upstream restaurant in Omaha and third place will receive an hour massage from Massage Envy in Lincoln.