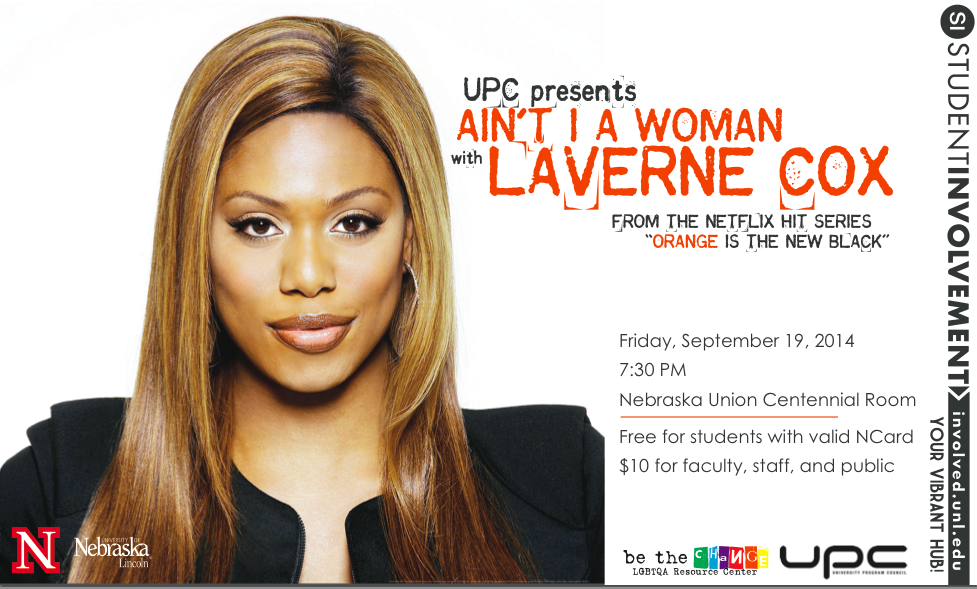 The University Program Council (UPC) along with the LGBTQA Resource Center present, "Ain't I a Woman" with Laverne Cox on Friday, September 19, 2014 at 7:30pm in the Nebraska Union Centennial Room. This event will be free for UNL Students with a valid NCard and $10 for Faculty, Staff, and Public. Tickets will only be available at the door.

Known for her groundbreaking role in the critically-acclaimed Netflix Original Series, "Orange is the New Black," Laverne Cox is a renowned speaker, writer and transgender rights activist. Laverne is the first trans woman of color to have a leading role on a mainstream, scripted television show, has produced and starred in her own VH1 series titled, "TRANSform Me," and has been a huge inspiration for the LGBT community. Her role in "Orange is the New Black" has been cited as the 4th Most Influential Fictional Character of 2013 by Time Magazine in addition to winning a Dorian Rising Star Award. Starring in "Orange is the New Black" has given Laverne a very public platform to speak from, and in a recent interview she stated that she plays "a multi-dimensional character who the audience can really empathize with— (and) all of the sudden they're empathizing with a real trans person. And for trans folk out there, who need to see representations of people who are like them and of their experiences, that's when it becomes really important."

In addition to her work on screen, Laverne has spread her empowering message of "moving beyond gender expectations to live more authentically" across the country. She has spoken at numerous colleges and has been featured on many National TV and radio networks including CNN, MSNBC, ABC and NPR. In her speeches, Laverne explores how the intersections of race, class, and gender uniquely affect the lives of trans women of color by drawing from her own personal experiences and tells the story of the unique challenges along her journey to womanhood, professional achievement, self-acceptance and love.

The University Program Council (UPC) is a student organization that provides diverse, educational and entertaining programs to enhance the UNL community. UPC acts as the executive body responsible for the implementation of programs and activities funded by University Programs and Facilities Fees (UPFF). For more than 75 years, UPC has been providing entertainment for UNL students in the form of films, speakers, concerts and more! For more information, please visit: http://involved.unl.edu/upc or follow UPC Nebraska on Facebook and Twitter.

More details at: http://go.unl.edu/pghg