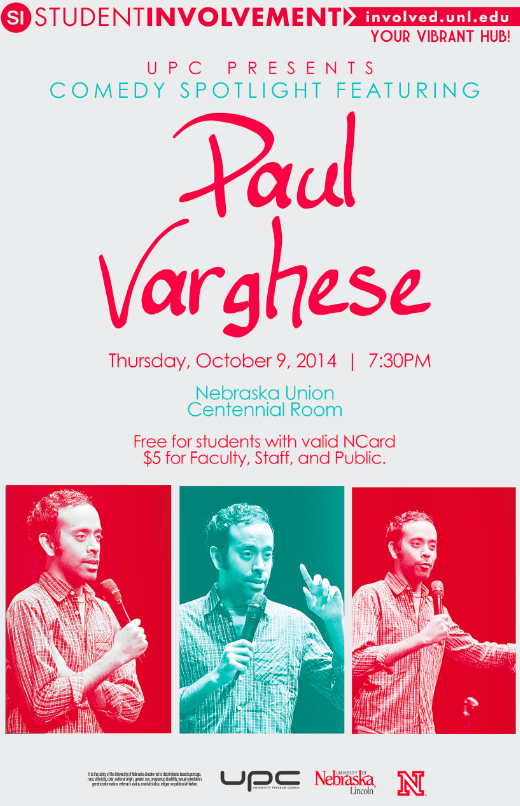 The University Program Council (UPC) presents "Comedy Spotlight Featuring Paul Varghese" on Thursday, October 9, 2014 at 7:30pm in the Nebraska Union Centennial Room. This event will be free for UNL Students with a valid NCard and $5 for Faculty, Staff and Public.

Stand-up performer Paul Varghese began his comedy career in 2001, and has continued to grow in popularity ever since. In 2007, he was named "Best Stand-up Comic in Dallas" by the Dallas Observer and won the "Funniest Comic in Dallas" competition in 2009. Varghese has performed at the HBO Comedy Festival, Montreal and Toronto's "Just For Laughs" Festivals and the TBS Comedy Festival. His TV credits include Telemundo 2's "Loco Comedy Jam", NBC's "Last Comic Standing" and Comedy Central's "Live At Gotham." Varghese's act includes a number of observations about Indian culture, providing outsider-looking-in and insider-looking-out commentary while also exploring an array of topics and issues outside of that realm, all of which will surely be hilarious.

The University Program Council (UPC) is a student organization that provides diverse, educational and entertaining programs to enhance the UNL community. UPC acts as the executive body responsible for the implementation of programs and activities funded by University Programs and Facilities Fees (UPFF). For more than 75 years, UPC has been providing entertainment for UNL students in the form of films, speakers, concerts and more! For more information, please visit: http://involved.unl.edu/upc or follow UPC Nebraska on Facebook and Twitter.
More details at: http://go.unl.edu/krrg