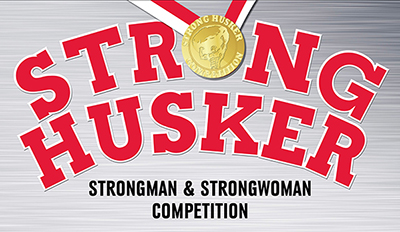 Students can prove their inner Husker at the fourth Strong Husker competition this fall. The event will be held Sunday, October 12 from noon to 6 p.m. in Cook Pavilion, located inside the Campus Rec Center on city campus. Weigh-ins will begin at 11 a.m. Strong Husker is a Strongman and Strongwoman-style competition focusing on a student's power, strength, endurance and dexterity and is open to both men and women. The five events in the competition are:

- Gator Truck Pull
- Log Press
- Deadlift
- Atlas Stones
- Medley: To be revealed at the event

The competition is presented by UNL Campus Recreation. Prizes will be awarded for top competitors in each weight classification.

Men's weight classifications are lightweight, medium-weight, heavyweight and ultimate.
Women's weight classifications are lightweight and ultimate.

The Strong Husker Competition is open to all UNL Students and Campus Recreation Members and is free to watch. The entry fee for participants is $20.

This competition is in conjuction with the "Greek Cup" and points will be awarded based on participation. Those interested in participating can sign up online at http://go.unl.edu/strong or at the Campus Rec Member Services Desk. Competition is limited to 40 participants with limited sign-up available the day of the event.
More details at: http://go.unl.edu/strong