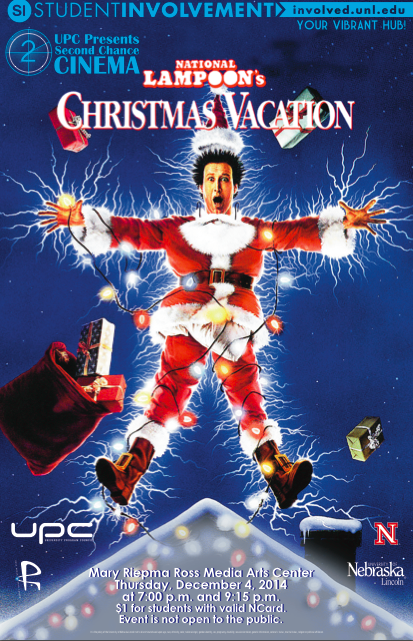 University Program Council (UPC) presents two showings of "National Lampoon's Christmas Vacation" at 7 p.m. and 9:15 p.m. on Dec. 4 in The Ross.

Tickets are $1 for UNL students only w/ a valid NCard (Sorry, this event is not open to the public.)

Chevy Chase returns in this blockbuster comedy as Clark Griswold, America's best-intentioned walking disaster area, who is determined to create a fun-filled, old-fashioned Christmas. Deck the halls with laughter at the escapades of the Griswold family.

--------------------

The University Program Council (UPC) is a student organization that provides diverse, educational and entertaining programs to enhance the UNL community. UPC acts as the executive body responsible for the implementation of programs and activities funded by University Programs and Facilities Fees (UPFF). For more than 75 years, UPC has been providing entertainment for UNL students in the form of films, speakers, concerts and more! For more information, please visit: http://involved.unl.edu/upc or follow UPC Nebraska on Facebook and Twitter.
More details at: http://go.unl.edu/sg6p