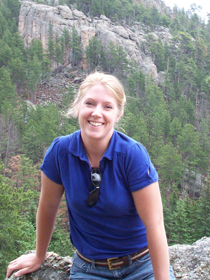 Becky Buller, geography lecturer, will present "Geographic Perspectives of Human Trafficking in the Great Plains" at 2 p.m., Dec. 5 in Hardin Hall room 228. The seminar is free and open to the public.

Modern-day slavery in the Great Plains? Law enforcement and assorted non-governmental organizations have long understood that human, especially sex, trafficking is alive and well in the region. Yet, neither law enforcement nor NGOs have a clear, big-picture understanding of the local human trafficking geographies. Little research exists. Moreover, most citizens, researchers and policy makers are behind, stuck in an immobile state of shock when they realize, "It happens here?!" Stereotypes run rampant, enabling the perpetuation of human rights violations.

Spatial dimensions of human trafficking in the Great Plains involve interdisciplinary concepts of cultures, demographics, development, economics, politics, power relationships, sports and urban dimensions. Geographic patterns are evident in places (enslavement processes, source regions, transfer locations and destinations) and people (victims, traffickers and clients).

Buller is a historical and cultural geographer who specializes in the Great Plains region as well as women's and gender studies. She is a geography lecturer at UNL, book review editor for Great Plains Quarterly and Great Plains Research, and fellow of and undergraduate instructor for the Center for Great Plains Studies. Her service includes the positions of the UNL geography program Achievement-Centered Education (ACE) coordinator and the Geography Student Organization (GSO)/Alpha Phi chapter of Gamma Theta Upsilon (GTU) adviser. In addition to contemporary human trafficking in the Great Plains, her current research projects include the historical recreational geography of Hidden Paradise. Buller's published works can be found in Montana: The Magazine of Western History, Nebraska History and Great Plains Quarterly.
More details at: http://go.unl.edu/qocg