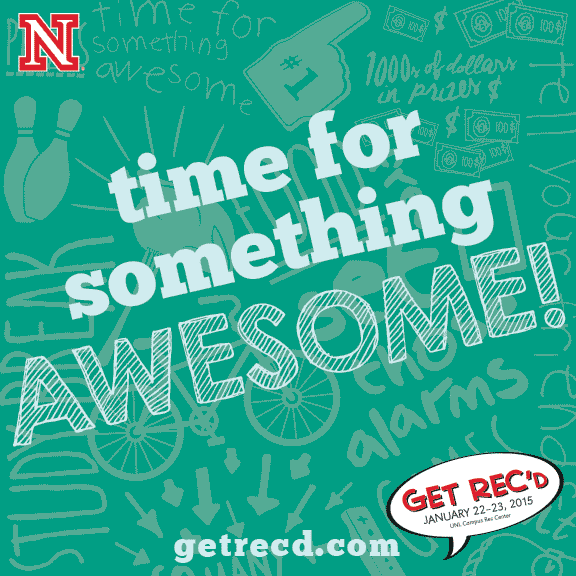 The largest college lifestyle festival in the Midwest returns to UNL for its ninth year Jan. 22-23. Held at the UNL Campus Recreation Center, GET REC'd showcases more than 45 vendors and includes free food, prizes and giveaways.

Participants can try out the latest products and technology, and experience sights and sounds from local and national companies, donate blood to support the Red Cross, and be an #ActiveHusker. Those attending can also enter to win more than $10,000 in prizes, including an all-expense-paid Spring Break surf trip-for-two in California. The two-day festival takes places 11 a.m. to 4 p.m. each day and attracts more than 10,000 UNL students, faculty, staff and supporters. Admission is free and open to the public.

——————————————————————————

Free GET REC'd T-shirt

This year, GET REC'd is encouraging an active lifestyle to claim your free GET REC'd t-shirt. Earn your free red #ActiveHusker shirt by participating in various activities at booths throughout GET REC'd!

——————————————————————————

Entertainment Schedule

Thursday, Jan. 22

11 a.m. GET REC'd opens
11:30 Performance by Phipp Phippa
12 p.m. PEPSI Olympics
1:30 p.m. Husker Fan Challenge
2:30 p.m. The Great College Chop Off!
4 p.m. GET REC'd closes


Friday, Jan. 23

11 a.m. GET REC'd opening
11:30 a.m. to 4 p.m. Ultimate Road Trip Challenge
4 p.m. GET REC'd closes

——————————————————————————

A complete listing of contests, prizes, schedules, exhibitors and sponsors is available at http://www.getrecd.com. GET REC'd is also on Facebook at http://www.facebook.com/GETRECD.

More details at: http://www.getrecd.com