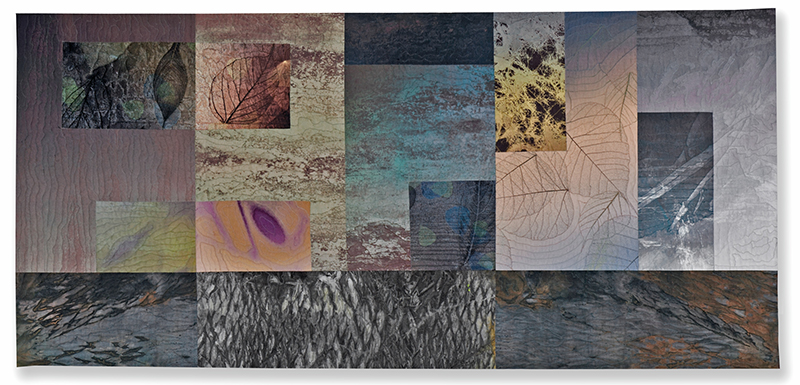 Michael James—Department of Textiles, Merchandising & Fashion Design chair and internationally recognized quilt artist—will offer insight into his four decades of art making during a lecture and reception at the International Quilt Study Center & Museum.

James will present "Michael James: Forty Years in the Studio" on Feb. 11, at 4 p.m. at Quilt House, 1523 N. 33rd St.

Tickets are $25 to benefit the IQSCM exhibitions program, and includes museum admission and a reception to follow the lecture. UNL students with current ID admitted free. Call 402-472-6549 or visit http://cehs15.unl.edu/ccp/iqsc10/ to order tickets.

"Ambiguity & Enigma: Recent Quilts by Michael James" is on display at the IQSCM through Feb. 23. L. Kent Wolgamott of the Lincoln Journal Star named the exhibition one of the top 10 best visual arts shows in Lincoln in 2015.

James studied painting and printmaking, earning a bachelor of fine arts degree from the University of Massachusetts at Dartmouth in 1971 and a master of fine arts degree from the Rochester Institute of Technology in 1973. For 25 years, he worked independently as the creative principal of Michael James Studio Quilts, exhibiting his work widely in the United States and abroad. Since 2002, James has focused his creative efforts on digital textile printing and its interface with the quilt as mixed media platform.

His studio and commissioned works are included in numerous collections. Among these are the Museum of Arts and Design in New York, NY; the Renwick Gallery of the National Museum of American Art of the Smithsonian Institution in Washington, DC; the Baltimore Museum of Art in Baltimore, MD; the Newark Museum in Newark, NJ; the Indianapolis Museum of Art in Indianapolis, IN; the Racine Art Museum in Racine, WI; the Shelburne Museum in Shelburne, VT; and the International Quilt Study Center & Museum at the University of Nebraska, Lincoln.

The University of Massachusetts at Dartmouth, awarded James an honorary Doctor of Fine Arts degree in May 1992. In 2001 he was named a fellow of the American Craft Council. James was honored in 2008 with the Nebraska Arts Council's Governor's Arts Award as Visual Artist of the year, and in 2009 with the University of Nebraska's system-wide "Outstanding Research and Creative Activity" Award. In 2015, the James Renwick Alliance honored him with a Master of the Medium Award.

The International Quilt Study Center and Museum at Quilt House is home of the world's largest publicly held quilt collection representing more than four centuries and 45 countries. The center's mission is to collect, preserve, study, exhibit and promote discovery of quilts and quiltmaking traditions from many cultures, countries and times.

For more information about this and other programs and exhibitions at the museum, visit http://www.quiltstudy.org.
More details at: http://www.quiltstudy.org