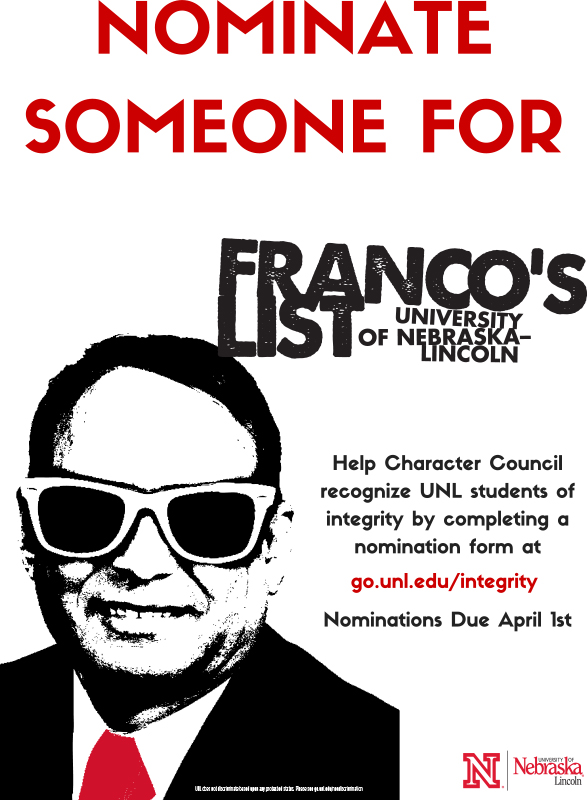 Franco's List Now Accepting Nominations
Event Seeks to Recognize Students of Integrity

LINCOLN, Neb. - March 1, 2016 - Character Council is asking University of Nebraska-Lincoln students and faculty to nominate students for Franco's List. The event recognizes students of good character who have made a positive impact either at UNL, in the lives of others or in the community. Nominations are submitted at go.unl.edu/integrity and are due April 1.

After the nomination period, members of Character Council will select the students to be recognized at the Franco's List award ceremony on April 20.

"Franco's List is similar to the Dean's List, but the Dean's List recognizes students for academics and Franco's List recognizes students for their acts of integrity," said Character Council President Jerica Burgess.

The UNL Character Council is a student organization within the Center for Civic Engagement. The organization was founded by Vice Chancellor for Student Affairs Dr. Juan Franco. Character Council seeks to promote integrity at UNL through the Show Your Red campaign, which includes Franco's List, High Five Friday and UNL Shout Outs. For more information on Character Council, visit engage.unl.edu/showyourred.

More details at: http://go.unl.edu/40bz