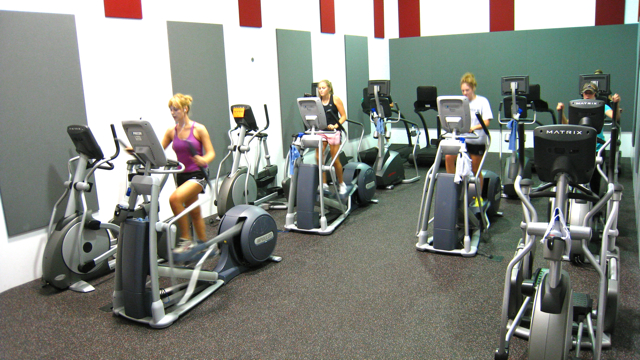 Campus Rec has a new exercise option. The Cardio Zone opened Aug. 22 with 16 pieces of new cardio equipment, including treadmills, ellipticals and stair climbers. The upgrade is the first funded by the YES 2 Better Rec Centers referendum.

The Cardio Zone is located beside the Super Circuit and The Studio in what was a racquetball court. While open, finishing touches on the Cardio Zone will be completed in the coming weeks. Users do have full access to all equipment.

The new cardio equipment includes four Woodway Desmo Elite Treadmills; four Precor EFX 885 Elliptical Fitness Crosstrainers; four Life Fitness Stair Climbers; and four Matrix Ascent Trainers. The new equipment is the newest state-of-the-art fitness equipment on the market with touch-screen functions, individual TVs, personal workout tracking, and iPod/MP-3 compatibility. The Matrix Trainers are a new type of workout machine at the Campus Rec Center. The other pieces are newer versions of equipment already in use.

Additionally, the new cardio equipment is more energy-efficient than previous models. The Woodway treadmills use 50 percent less electricity than other treadmills. They also do not require deck replacement and offer a decreased need for belt changes.

The Cardio Zone is the first project of the YES 2 Better Rec Centers referendum, which UNL students passed during a special ballot in 2010. The referendum appropriated student fees for an increase in the amount of cardio and strength training equipment available to students and to improve the quality of campus recreation facilities. A goal was set to add 100 pieces of cardio equipment between both the city and east campuses. A major portion of the goal will be accomplished with the construction of a new East Campus rec center and major renovation to the City Campus rec center, both of which will be completed in the year 2014.