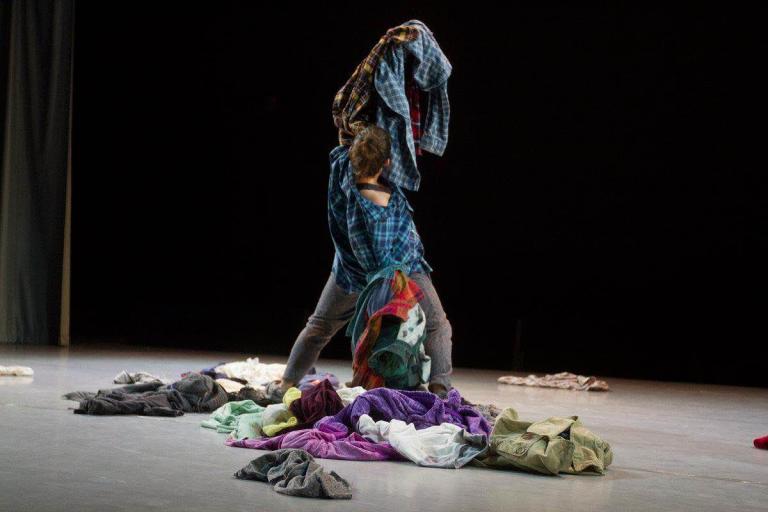 The University of Nebraska-Lincoln Glenn Korff School of Music dance program's 12th annual Student Dance Project will take place on both Friday, December 2 and Saturday, December 3 in the dance space in Mabel Lee Hall (14th and Vine) beginning at 7:30 p.m. each night. Tickets are $5 general admission and $3 for students & seniors and will be available at the door.

Dancer and Choreographer Cassidy Sostad said every year is different from the next.

"Since dance is so ephemeral, you will never witness exactly the same thing twice," Sostad said. "The student choreographers each have their own style that they have cultivated over the years they have been dancing; whether that began in college or when they were 2 years old in a creative movement class."

The choreographers have really bonded through the process and have become a great group of friends and artists, according to Dancer and Choreographer Kelli Marie Griffin.

"I believe that this is a special performance because 12 out of 13 pieces are student work," Griffin said. "We have all really pushed one another to make amazing work this year and have supported one another through these choreographic decisions."

Fellow Dancer and Choreographer Jordan Patt said, "The Student Dance Project is special because it gives students an opportunity to create anything they can possibly dream up. We get a taste of what it could be like for us as dancers and choreographers after graduation. Dance is my art and I jump at any opportunity I get to expand my art and create. I hope I continue to choreograph and create and one day I'll look back on this show as my jumping off point."

Griffin has really challenged herself this year to create a group piece.

"Last year I made a solo so I only had to coordinate with one dancer but this year I decided to do a group piece and had to coordinate with five dancers who all move differently," Griffin said. "So I think the challenge of creating the movement has to be the most important part of this production for me."

Sostad added, "This show is important to me because for many of us, this is our first opportunity to have our work showcased. We get to really explore the depths of our creativity and put together something that we are proud of. While many of us choreograph dances for children at studios in the community, this choreographic process is much more reflective and careful. We can push the boundaries in a safe space."

Patt is choreographing a piece called, 'but when are we going to paint the apartment?'.

"I choreographed this piece on two male dancers," Patt said. "When I began dreaming up this piece, I always envisioned it between two male dancers. People don't often see two males dancing together and are often uncomfortable witnessing a piece like this. I wanted to create something beautiful to show people that women don't always have to partner with men or vice versa. This piece is also about relationships and all the nuances to be found with any type of relationship. I wanted to create a space to be shared with the dancers and the people witnessing, in whatever form that may take.

"It's important to me because it gives me a voice; it gives me creative license to make something I'm passionate about or inform my audience about something."

Griffin's piece is called, 'Threading Imperfections'.

"I don't really want to give away what my piece is about before the show, so I will have to be very vague," Griffin said. "I chose to create my piece based of a theme of one song that I'm very moved by. Then came the idea of creating how big the piece will be so I decided to create a larger piece this year. I used much of my dancer's input and their natural movement in this piece. I did struggle with the narrative I wanted to portray in the piece but it has really come together in the past couple of weeks and I cannot wait for our audience to see it and hear their interpretation of it!"

The work on each of the dances begins right at the start of the semester and these two nights are a culmination of all of the meaningful process and hard work.

"After summer break, I think about 10 out of the 12 student choreographers returned to school and had ideas or themes for their dances," Sostad said. "I was one of the two who had no idea where to begin. It wasn't until another classmate suggested I make a dance about a color. My favorite color is blue, which led me to thinking about the ocean. I absolutely love the ocean, so I decided that my movement inspiration should come from water and waves. From that, "Sea" was born! My dance is very literal, but in this dance concert you will find many other themes including personal narratives, politics, abstract interpretations, and many more."

Saturday night's performance will also be live webcast. Visit music.unl.edu the night of the performance for the direct link.