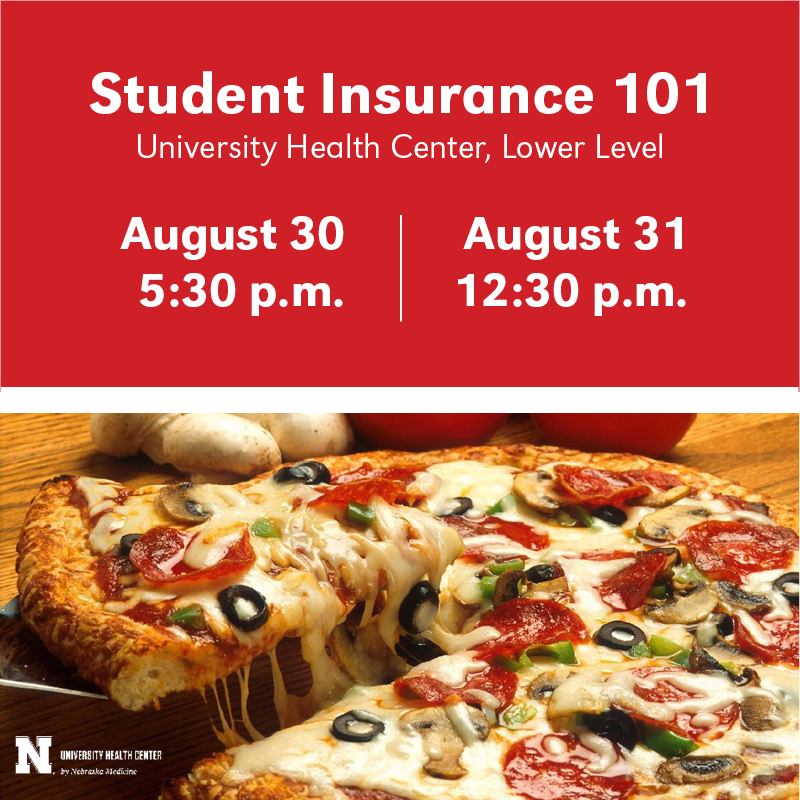 The University of Nebraska has partnered with UnitedHealthcare to offer UnitedHealthcare StudentResources: An affordable, convenient medical, mental health, dental and prescription insurance plan for students.

If you're currently enrolled in this plan or are considering enrolling in it, come eat free pizza and learn more about the UHCSR plan at Student Insurance 101.

This informal event will be held Wednesday, Aug. 30, from 5:30 - 6:30 p.m. and Thursday, Aug. 31, from 12:30 - 1:30 p.m. in the lower level of Nebraska Medicine – University Health Center (1500 U St.) This is an open invitation; no RSVP required.

At Student Insurance 101, our insurance representatives will explain:

• How to get the most out of your UHCSR insurance
• What services are covered at the Health Center
• What you'll pay if you visit off-campus healthcare facilities
• How to accept or waive your insurance if you were automatically enrolled
• How to get your insurance card

Following this brief presentation, our staff will be available to answer any of your student insurance questions. And did we mention free pizza?!

Questions about the event? Call the Nebraska Medicine – University Health Center marketing office at 402.472.7417 or email uhc@unl.edu. We hope to see you there!
More details at: http://health.unl.edu/studentinsurance