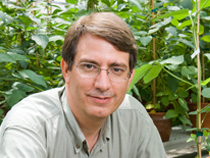 The Nebraska Gateway for Nutrigenomics Seminar Series will continue at noon on Nov. 30 in the East Union, with a presentation titled "Unraveling Vitamin E Biosynthesis for Enhanced Antioxidant Content of Crop Plants" by Edgar Cahoon.

Cahoon is a Professor with the UNL Plant Science Initiative and the Department of Biochemistry. His research focuses on basic and applied research on plant lipid metabolism. The goals of his research are to enhance the nutritional and industrial value of crop plants and to probe the synthesis and function of bioactive lipids for nutritional biofortification and improved agronomic performance of crops.

The lecture is free and open to the public.