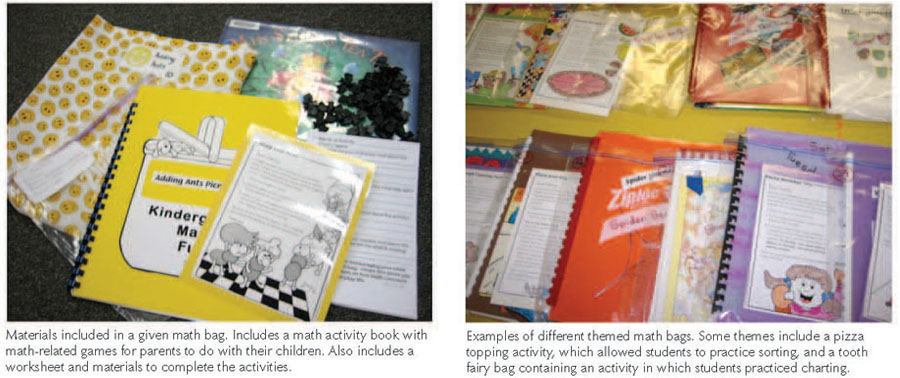 An article featuring highlights of family projects conducted by Primarily Math teachers as part of their course requirements appeared in the NCTM journal Mathematics Teacher Educator (Vol. 2, No. 1, September 2013). Written by Primarily Math researchers from the University of Nebraska, Heidi Fleharty and Carolyn Pope-Edwards, the article provides a synopsis of the themes which emerged from participating teachers regarding the challenges, goals and benefits of intentional interactions with families focused on math.

Fleharty was asked a series of questions to reflect on the article.

Q: What do you think is the biggest idea that comes out of this study?

FLEHARTY: I think the biggest idea that comes from this study is that family-school partnerships do work well in a mathematical setting. Teachers who work towards involving parents and families into their math instruction find that they are able to create a very strong connection between a child's home environment and their school environment.

Another idea that stems from this study is that doing family-partnership projects like the one completed by members of our Primarily Math program allows teachers to really evaluate the relationships they have with the families of their students. These types of projects allow teachers to use a cycle of inquiry during the implementation of their specific projects, which encourages them to takes risks, brainstorm with their colleagues about ways to improve their projects, makes them aware that working with parents is a skill that does involve ongoing evaluation similar to the skills needed for their classroom instruction.

Q: What is something that surprised you as a result of this study?

FLEHARTY: I knew the teachers in our program were very creative and dedicated to their work, however, I was blown away by the amount of creative thought, organization and dedication that went into creating these family projects. Many teachers got others in their school involved in the projects, while others went to great lengths in order to gather materials to make their math bags or math night extra special for the families participating.

Q: Is there something you want the Primarily Math teachers reading the newsletter to know?

FLEHARTY: The main thing that I would like them to know about family-school partnerships centered on mathematics is that getting parents to participate in the mathematical education of their child is a very doable and worthwhile endeavor. I feel that often teachers are a little hesitant when it comes to working with parents for the risks associated with such an effort can be very intimidating (ex: not having parents show up to an event you plan, losing materials that are sent home, the time and effort that is put into doing such projects-will it be worth it? etc.) However, I think many teachers will be surprised by the willingness of many families to participate in such events/activities if they are asked to do so. So I would encourage teachers not to be afraid to take this type of risk, because even if you are reaching only a few of the families who make up your classroom you will still be making a difference and creating a starting ground to building stronger family-school partnerships.