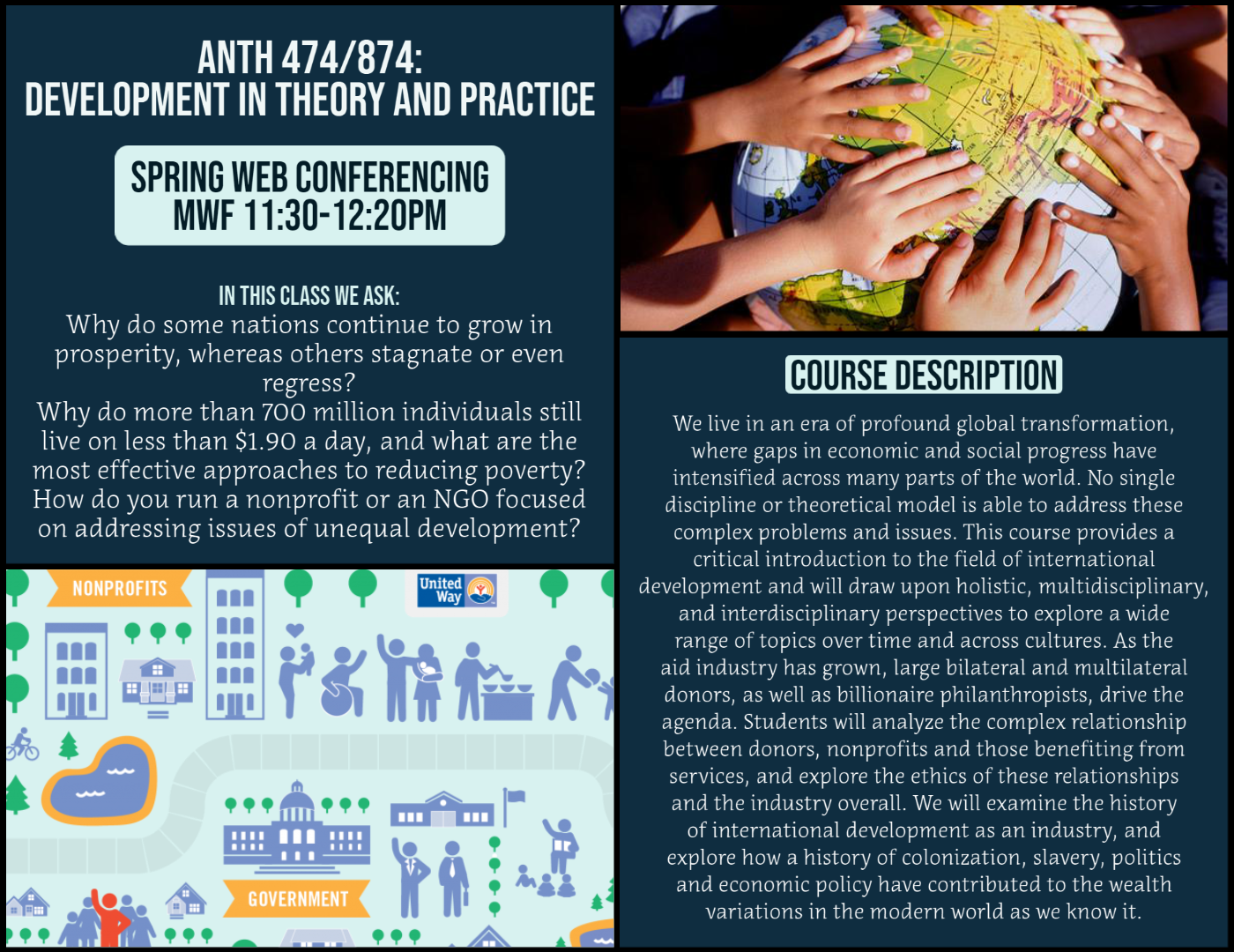 Spring Course: ANTH 474/874: Development in Theory and Practice (formerly Applied Anthropology) is open to ALL UNL undergraduate and graduate students with a sophomore status or above. Please email Dr. Emira Ibrahimpasic (emira@unl.edu) if you have any problems registering or if you have any questions about the course.

We live in an era of profound global transformation, where gaps in economic and social progress have intensified across many parts of the world. Why do some nations continue to grow in prosperity, whereas others stagnate or even regress? Why do more than 700 million individuals still live on less than $1.90 a day, and what are the most effective approaches to reducing poverty? No single discipline or theoretical model is able to address these complex problems and issues. This course provides a critical introduction to the field of international development and will draw upon holistic, multidisciplinary, and interdisciplinary perspectives to explore a wide range of topics over time and across cultures. As the aid industry has grown, large bilateral and multilateral donors, as well as billionaire philanthropists, drive the agenda. Students will analyze the complex relationship between donors, nonprofits and those benefiting from services, and explore the ethics of these relationships and the industry overall. We will examine the history of international development as an industry, and explore how a history of colonization, slavery, politics and economic policy have contributed to the wealth variations in the modern world as we know it.

Further, this course explores the fundamentals of non-profit management applied in a global context, and the organizational strategies needed to operate effectively in complex environments. Because of the unique complexities of international NGO work, there is a high level of ambiguity found in global nonprofit management. Students will view organizational management and development through both an organizational theory and anthropology lens and assess the merits of each. Additionally, students will explore how organizational culture influences the activities that are carried out and the workstyle and interaction with communities. Students will examine various case studies nonprofit management and critique the skills and expertise needed to manage a nonprofit successfully.

Instructor Biography:
Jill LaLonde is the Executive Director of OneVillage Partners, an international nonprofit organization that facilitates community-led development projects in West Africa. Jill has 15 years of experience in the international development and nonprofit sectors, ranging from Gates-funded public health research in Northern Uganda to managing multi-million dollar USAID-funded projects across Africa, Asia and the Middle East at Land O'Lakes International Development. Jill holds a BA in Psychology from the University of Minnesota and an MSc in Development Studies from the London School of Economics.

Please note that this course is currently listed as ANTH 474/874: Applied Anthropology and Development in catalog right now, but the course name is in the process of being changed.